Stage 4 - Oykel Bridge to Cape Wrath

(and beyond)
For this last stage of our walk we asked people to sponsor us and we collected money for Project Ability, a Glasgow-based charity which provides opportunities in the visual arts for people with learning disabilities, mental health problems and others who find it difficult to access mainstream activities.
You can donate online by following this link
We would like to say a BIG THANK YOU to everyone who has supported us for their great generosity.
So here we are at last, on the final stage of our walk to the top left of Scotland. The plan is to dump the car at Durness, take local transport to Oykel Bridge and then walk about 100 miles back to the car. We drove up the quick but bland route, up the A9. It's actually only bland up to about Inverness, with the exception being the part where the road goes by Cairngorm; after that the road gets ever more interesting until you find yourself on single tracks in rugged country. We saw an eagle soaring above Loch Assynt and felt then that we were entering the heart of Scotland.
The weather was gray and wet when we left Glasgow and it seemed to follow us North. We arrived at Durness and checked into Mackay's Hotel, where we learned that the forecast for the next week was rain, rain and some showers, followed by more rain. Undaunted, we took a wee drive to Smoo cave and walked along the clifftops.
The view from Smoo Cave
After, we drove back to the hotel, left the car and had a stroll down to the beach in the fading light.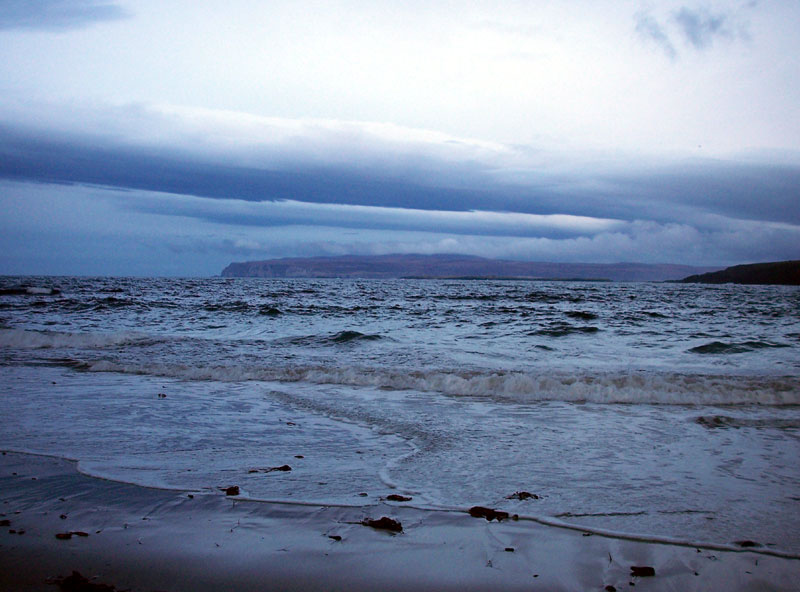 Sand, sea and sky in the evening near Durness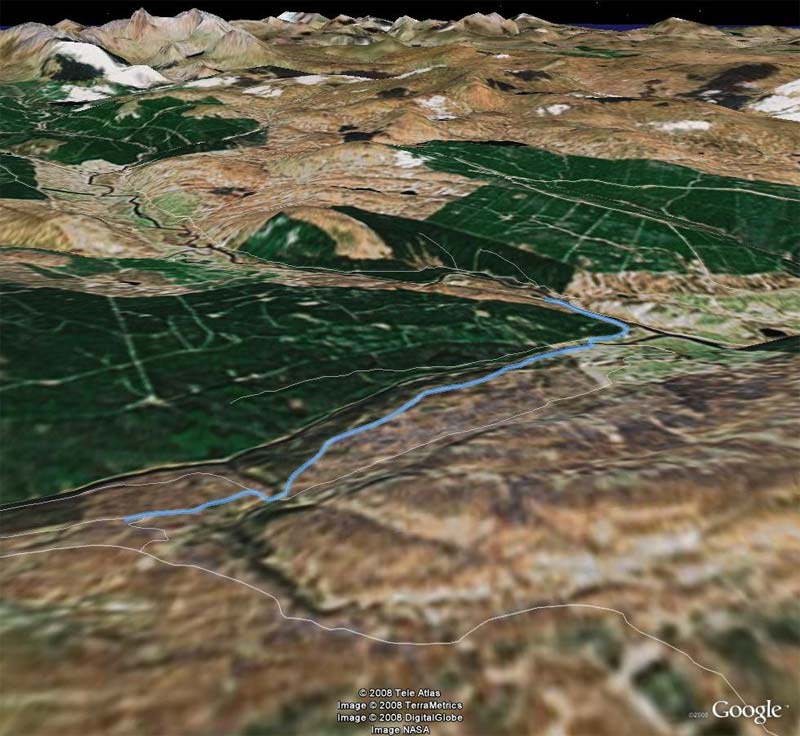 Thursday May 1st 2008: An early start to the morning after a great sleep in the wonderfully comfortable bed in the hotel. The staff were kind enough to prepare breakfast early for us so that we could catch the bus to Lairg. Another early riser was Bruce, a cyclist who, bizarrely, wore his cycling helmet while eating.
We were out in plenty of time to dump our unwanted luggage in the boot of our car, which would remain in the public car park until our return. Then a short walk across to the shop opposite the hotel. After a little wait outside in the crisp morning air we caught the bus. On the way South we caught glimpses of some of the places we would shortly be walking through. It both gladdened our hearts and gave us pause for sober reflection. Jings! It's pretty rugged out there!
With a couple of hours to spare at Lairg we dropped off our rucksacks in the bus parked at the Post Office. While we were there we posted our room key back to Mackay's Hotel in Durness. Oops, I had kept it in one of the large side pockets in the leg of my trousers. Just as well we had rare phone reception in Lairg and Celine was able to pick up the hotelier's warning text.
To be honest, Lairg isn't exactly geared up for tourists and we found little to occupy ourselves with, other than a cuppa in a diner, a walk down the lochside to read the Broons story posted there, and a stroll up the hill to the old football grounds. Thankfully, the Post Bus left on time and carried us West to Oykel Bridge.
The Oykel Bridge Hotel is a cold, unwelcoming place where rich folk go to tell lies about the fish they have caught. The window in our room was broken and wouldn't close properly, allowing the chill air to mix with the chill reception. We were in no great rush since our walk today was a mere 5 mile stroll without our packs, so we loitered around the bar and bought a couple of pints. We chatted with two walkers who were also on their way to the Cape. It turns out one of them was Bob, who runs www.backpackinglight.co.uk which I had consulted as part of my preparation for this trip. I sneaked a lift of his backpack and was surprised at how heavy it was, although he explained that he was blogging and podcasting his trip so it was full of toys such as an MP3 recorder, camera, etc. Nice to meet you, and your pal Lee, Bob. Maybe one day I'll be able to get my pack weight down to 7kg instead of the 15kg that felt so back-breaking over the next week.
After our pint we started off on our walk. As I said, it was only a short stroll today; 2.8 miles South to Glen Einig and the path we took last year on our Inverness - Ullapool stage, then back again. We hadn't gone very far before the rain started, and persisted. We walked on good forestry tracks until we reached our mark. Surprisingly, although the terrain was bland and unremarkable, we still both recognised it from last year's walk.
And so, we turned around, faced North, and began the final stage of our Long Walk.
Our journey continues from here.
Despite our waterproofs, we were soaked through long before we returned to the hotel, but our walking clothes are quick-drying and our packs were in the hotel room and so we had no worries about starting the next day in damp clothes. Our boots were doing a fine job of keeping out the water so far, athough we still had concerns about the long range weather forecast.
When we arrived at the hotel we changed into our dry clothes, hanging the wet ones on the radiators to dry out. After a short nap we returned to the bar for another couple of pints and met up with two Dutch travellers, Gerard and Tilo, who had been visiting Scotland every year and walking the Cape Wrath Trail in stages. This was to be their last visit but they were planning on walking in one day what we had decided would take us two days. We chatted for a while until Celine and I had to go for the dinner that we had booked. The dining room was full of well-spoken toffs and our table was set well apart from them. No matter, since the roast beef buffet was sensationally tasty, and the grape brulee and almond tart were both sublime. After dinner we returned to the bar to meet up again with our new Dutch friends. We swapped stories, exchanged GPS co-ordinates, consulted maps and drank single malts until we all decided to be sensible and retired for the night. The Hotel staff refused to supply an early cooked breakfast or even porridge for the Dutch couple who would have to be out by around 7am in order to get to Inchnadamph in time to catch onward transport and their flight home, so they would have to start their long day's walk with cereal.
Distance walked - 5.6 miles
Friday May 2nd 2008: An unexpectedly bright morning following yesterday's rain. After a big, traditional fried breakfast for me and delicious porridge for Celine we set out on the first day of serious backpacking.
Gerry, with GPS in hand, tries to decide whether to go left, right, or back to bed.
Just beyond the fence that marks the Western boundary of Caplich Wood we encountered our first major obstacle. The grey, free ranging cattle of Caplich had clearly just recently enjoyed a bring-your-own-laxative party and the road ahead had become a river of ankle-deep faeces. It's at times like this that gaiters and walking poles become worth their weight. The former stops the icky goo from sludging into your boots and the latter helps you to maintain your balance as you skid perilously close to an intimate examination of Nature at her smelliest.
Having successfully negotiated Bullshit Pass, we continued on and met the farmer from Caplich as he drove along in his tractor. He was full of the joys of Spring and, on such a sunny day, was anticipating that the cattle would soon be going "up the hill". Summer walkers will be relieved to hear it.
We continued walking until we reached a ford where the Allt Rugaidh Bheag meets the Oykel. Here we stopped for coffee and a footrub. We try to make sure that when we stop for a break we remove our boots and socks and, this year, we brought along talc which we find helps to cut down friction on the skin and, therefore, blisters. I cleverly managed to knock over the stove, losing all of our heated water and, somehow, a lot of our gas fuel.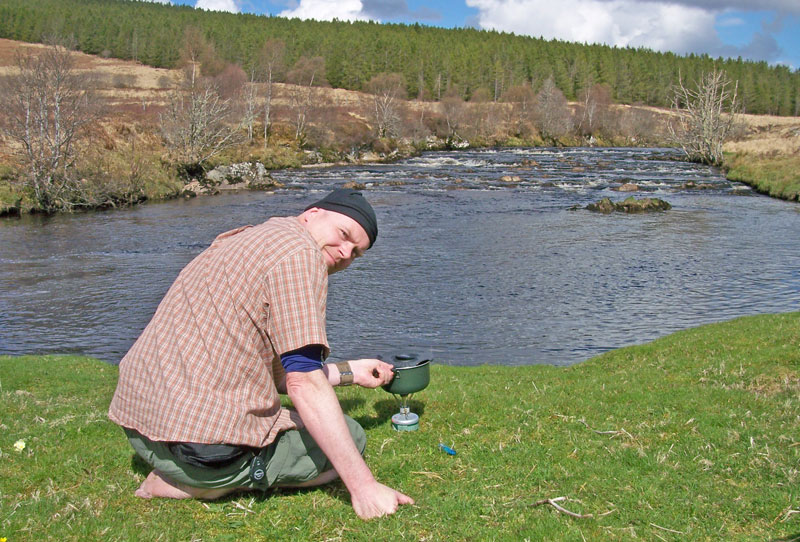 OK, let's try it without spilling the water this time shall we?
The track continues down beside the River Oykel but, despite what the 1:50,000 OS map would have you believe, it stops shortly beyond the ruins at Salachy. We know, we walked there. It wasn't marked on our 1:25,000 OS map and we had already considered our options. The firebreaks we had considered following were there, as our map promised, but they seemed quite boggy, rough and uninviting. In the end we decided to follow the advice given in the excellent "North To The Cape" (by Denis Brook and Phil Hinchliffe, published by Cicerone). They recommended cutting uphill to the west of the burn which passes the ruins. It's sound advice. Although the trees are quite closely packed, there's a path which can be fairly easily followed. It ventures pretty close to a steep slippery fall down into the burn in places so you have to watch where you're going.
The ruins at Salachy
The path climbs up beside the burn and, eventually, near the waterfalls, it brings you out to a broad forestry track and some welcomingly easy walking.
Looking back down from the top of he hill at Salachy. There's a path there, somewhere. Honest.
The track brings you down to the shores of loch Ailsh and a short walk along the Eastern shore brings you to Benmore Lodge. We spoke with a couple of the estate workers who explained to us that "North To The Cape" had brought a lot more walkers to the estate in recent years. Although we were welcome at this time of year, as long as we caused no disruption to the lambing, walkers in the Autumn, during the stalking season, were considered a pest.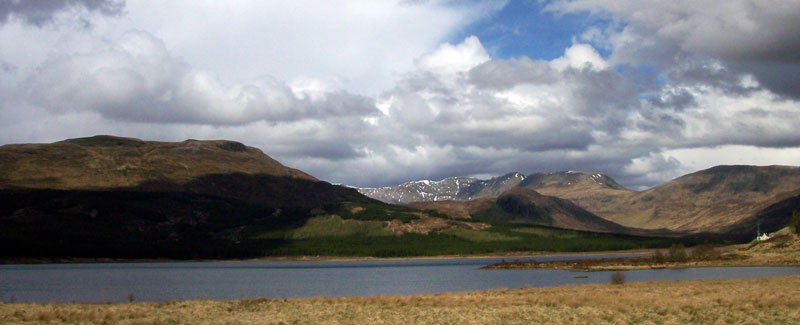 Snow on Ben More Assynt, from Loch Ailsh
We walked a litle way past Benmore Lodge until we found the path flooded by the Allt Càthair Bhàn. As we turned upstream to avoid getting our feet wet we found a perfect, flat clearing in the trees and decided that this was the spot for us to camp for the night. Just in time. As soon as the tent was up the showers began in earnest and continued for most of the night. It had been a reasonably easy start to our journey, which was deliberate since we knew there would be tough days ahead and we wanted to break ourselves in gently. However, we arrived at 15:30 and, not wishing to get soaked in the intermittent showers, we remained in the tent for most of the afternoon, evening and night, coming out when the rain stopped to cook and stroll but otherwise driving each other stark, raving bonkers.
Oor Wee Tent, nestled among the trees near Loch Ailsh
Distance walked - 10.8 miles
Time taken - 6 hours
Saturday May 3rd 2008: Despite the early stop and probably because of a cold and uncomfortable night we slept until 8:30 this morning. After a light breakfast we took our time striking camp and left about 10. The morning was cool and cloudy - good for walking. There's a good path until the Allt Sail an Ruathair. Crossing the river at this point looked pretty dodgy as the flat rocks were covered in slimy moss and there's a bit of a drop down on the left side so we went a bit upriver until we found a place that we were happier to cross at. We went back to the path on the opposite side but it degenerates from here and becomes muddy, boggy and often difficult to find. The next river crossing at the Allt an Dubh Loch Bhig meant another wee detour upstream for us but we picked our way across without too much difficulty. From here it got even boggier and, about a mile further on as we left what little path there was to head towards the Bealach Trallgil, the bog took over completely and made the going very tough.
Looking back Southeast along the path of the River Oykel to Benmore Forest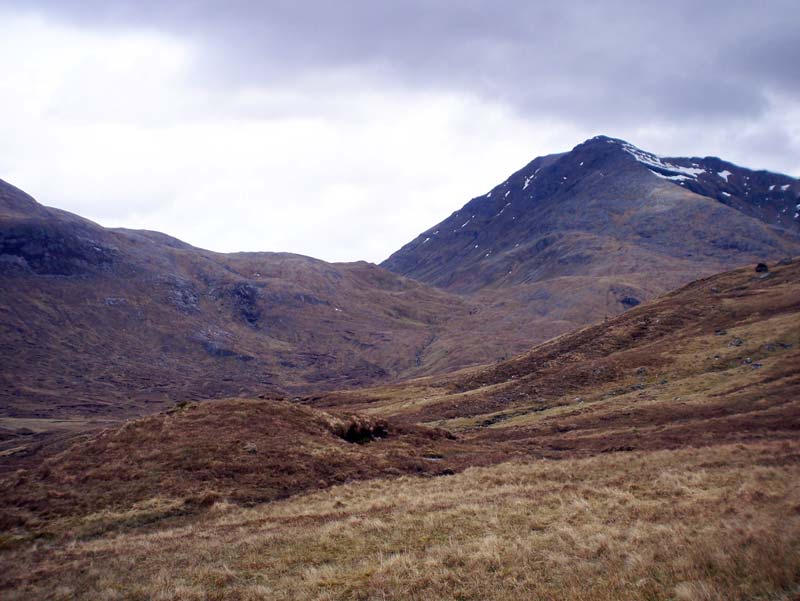 Looking the other way, Northwest to the peak of Conival. We had to get up to the bealach
We struggled on to the Allt an Dubh Loch Mhoir but were finding it difficult to find a way to cross which wouldn't involve getting our feet wet. However, after about another half mile of searching upstream we found a tricky, but fordable spot.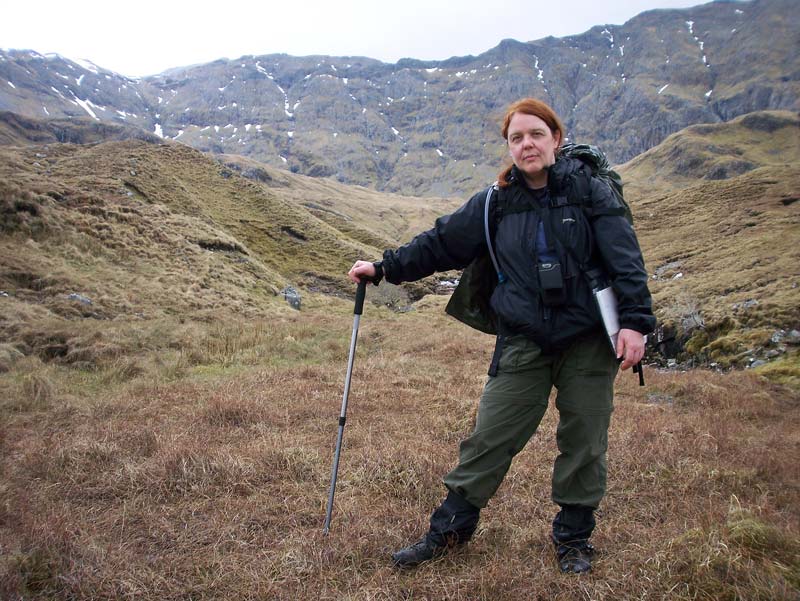 Celine pretends that she wasn't bothered by the river crossing. The huge Garbh Choire and ridge of Ben More Assynt glowers behind her
Our next challenge was heaving ourselves up the steep and trackless hill to Am Bealach. It seemed to take an age as the unforgiving terrain coupled with the weight of our backpacks sapped the strength out of our limbs. Eventually we found a path leading us up into the Bealach Trallgil and this made the going much easier.
The River Traligill (don't you just love the way that spelling is completely arbitrary with Scottish place names?) starts up here and soon starts to plunge steeply down the northwest opening of the bealach. The narrow path clings to the steep slopes of Conival and at one point, for several terrifying and cautious footsteps, there seems to be only a narrow ribbon of path between sheer, rocky walls on the right and instant doom on the left, down the near-vertical scree slopes to the icy waters gushing below, racing madly down the gorge until they are swallowed completely by the maze of limestone caves in this area. I went ahead and tried to pretend that I was very brave. Celine wasn't fooled and, ashen-faced, she inched her way along. Neither of us like heights, you see? Views, yes, but not ones that threaten certain death if you should happen to trip over a shoelace. However, we got past without mishap and were more than happy to see the path broaden as it made its way downhill.

Panoramic view towards Loch Assynt from the Bealach Tralgill. Canisp is left of centre with Quinag on the right of the picture
As a special treat for being so brave you get to see the hills of Assynt spread out in front of you and the nippled peak of Quinag guarding the eastern shores of the loch.
Quinag and Loch Assynt
Once the land begins to flatten out it becomes boggy again and the path soon disappears, making for more slow and difficult progress. As I mentioned before, this is limestone country and as the rocks are dissolved by year after year of rainwater, sink holes and caves are formed, so you need to be careful where you put your feet. Only a couple of days before we got here the largest cave in Britain was discovered nearby. We couldn't see an obvious way across the gorge and the river to the path at Gleann Dubh, so we skirted around the North of Cnoc nan Uamh, past the "bear caves" with their dark and ominous rumble of rushing water until we found the path which would gradually broaden and take us past Glenbain (available to rent for holidays) to Inchnadamph.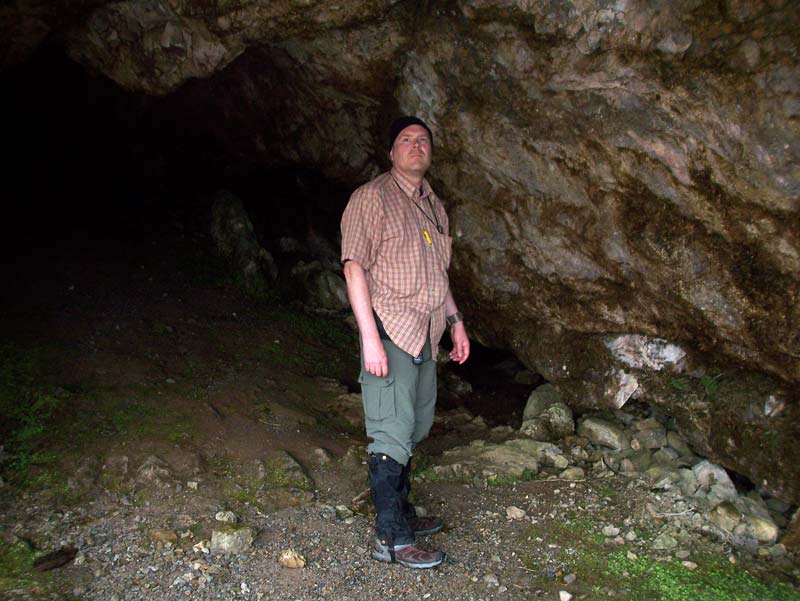 Bear in a cave
It had been a tough day but the sun was breaking through the clouds as we dragged our throbbing feet towards our welcoming hotel. Our Dutch friends had been very complimentary about the Inchnadamph Hotel. In particular, they sang the praises of its proprieter, Richard, who had gone out of his way to help them in previous years after mishaps on their walk. Richard proved to be an excellent host - charming and attentive without being cloying or obseqeous. Seeing that we were quite exhausted, he showed us straight to our room, saying that the registration formalities could wait. Staff in other hotels in the area could learn from this.
We changed and I hung up the outer tent, soggy from the previous night, in a shed outside. The meal we had at the bar was enormous, but we scoffed the lot anyway. Later, we asked Richard if he had seen Gerard and Tilo, our Dutch friends, the previous day. He said he had, and that he believed that they had been in time to catch their bus. We told him about our wearisome trek through the bogs between Benmore forest and Conival and he expressed surprise that we had missed the path. He assured us that there was a very clear path that could have easily taken us our way. "It's even quite easy in the dark", he said. He's crueller than he looks.
Distance walked - 10.2 miles
Time taken - 7.5 hours
Sunday May 4th 2008: We arose to a beautifully sunny day and another satisfying Full Scottish Breakfast. I had nightmares about forgetting the tent, waking up convinced that it had blown out of the shed and away up the loch. So I quickly went out and packed it back into my rucksack.
Within minutes of everyone expressing their joy at the beauty of the morning it grew chill, grey and distinctly unfriendly but we shouldered our packs and left the hotel at 9:30 in anticipation of a long and difficult day. And so it was.
Quinag and Sail Gharbh as the clouds come rolling in to darken the morning. From the Inchnadamph Hotel.
Our onward path took us a little bit back along yesterday's trail but very soon we turned up along the steep path which climbs up close to the North bank of the Allt Poll an Droighinn. This track continues relentlessly upward, eventually leaving the river and sweeping around due North. There is a fork in the path where the right part detours to Loch nan Cuaran. Immediately before this there's a little makeshift shelter where we were able to rest out of the wind for some much-needed footcare.
Gimme shelter
It was here that Celine noticed some quite regular rectangular markings on the hillside of Beinn Uidhe opposite and wondered what caused them. Our friend Nick has emailed to say that it could be muirburn - the ancient practice of burning sections of moorland in order to regenerate heather growth which benefits livestock and wildlife. Sounds good to me.
Rectangular markings on the hillside. What's that all about, then? Muirburn, probably
Our path now descended to the West shore of Loch Fleodach Coire and it became - you've guessed it - really boggy. There were two or three wee rivers to cross here but luckily there was a helpful bridge across the largest.
Slippery when wet
It was about this point that the theme from Indiana Jones was adopted as our anthem for the journey. After precariously but successfully negotiating the Bridge of Doom we headed (here we go again) steeply up through almost trackless bogs which eventually gave way to the rocky shoulders of Beinn Uidhe. This becomes a boulder field as you approach the Bealach na h-Uidhe between Beinn Uidh and Glas Bhein but the going is quite easy if you keep to the west side. This bealach was, quite literally, the high point of our day. At 2,000 feet you reach the top of the path and are rewarded with a heart-stopping view across the vast expanse of Glen Coul towards Beinn Leoid with the dizzying drop of the Eas an Srutha Ghil waterfall tumbling from Loch nan Caorach at 1,200 feet.
Mountains, loch, waterfall - but the photo doesn't do it justice. You have to see it with your own eyes.
It's steeply down now through rugged, rocky terrain and the path is convoluted but almost always easy to follow. It was getting quite late in the afternoon and we hadn't yet stopped for lunch. We were determined to do this at the Eas a' Chual Aluinn, Britain's highest waterfall. This meant adding a diversion of about a mile to an already exhausting day but we reckoned it would be worth it. I'm not so sure now. We dumped our rucksacks by the path and followed the way marked on the map which meant crossing the river then following its left bank. It was drizzling a little and so what little path there is was extremely boggy, slippy and hard to find. As we approached the top of the fall the dizzying height became all to apparent and sent a shiver up our spines. Celine hung back a little while I took her camera and got as close as I dared (with all that slippy rock and mud I didn't get that close). I stuck my arm out and took this shot.
It's 650 feet straight down - 4 times the height of Niagra!
If you ever end up coming to see the waterfall then I would recommend that you follow the other side of the river, not the path shown on the OS map. There's a large rock with "Fall" painted on it and an arrow to show the way. There's a bit of a path, probably like the one we took, and I suspect that you'll have a better view of the cascade from the other side.
We ate our lunch as the drizzle became ever heavier, enjoying the view of the other waterfall ,and then slipped and cursed our way back up the muddy hill to pick up our packs and continue on our way. There was a lot more uphill to come. Having dropped to 750 feet we then had to climb back up to 1,500 feet. Our total ascent for the day was over 3,000 feet which means that we climbed the equivalent of a Munro carrying all of our camping gear. We were knackered and we still had miles to go.
There must be a path there somewhere
The weather steadily worsened until we were soaked through. Navigation could have been difficult in the poor visibility but the path was pretty good and frequent checks of the compass reassured us that we were headed in the right direction. At Loch Bealach a' Bhuirich we were grateful that the path began to descend, although it becomes ever more boggy as you go down. The clouds cleared a little and we were treated to the sight of the islands out in distant Eddrachillis Bay.
Clearing up...
Better yet
At least the end was in site and we at last spotted the road as we sloshed our way down to Loch na Gainmhich. We weren't quite finished though. After a brief rest we had to cross the Allt Chranaidh. Luckily, although it's wide, there are good stepping stones across close to the loch and away from the waterfall, so crossing was easy. One last tiresome, boggy trudge brought us to the road. Great! Only 4 miles to go.
If you're driving in good weather, this part of the road is real car advert stuff as it loops and winds below Quinag heading for the narrow gulf between Loch a Chairn Bhain and Loch Glencoul. On the other hand, if you've already climbed up and down a Munro during the last 10 miles in the rain and with a heavy rucksack weighing you down then it's a right pain in the...er...feet. And arse. Although the clouds blew pleasingly around the mountain it did little to raise our spirits as we damply plodded on, feet and backs aching, to the Kylescu Hotel. On the plus side, it's mostly downhill. Mostly.
The Kylescu Hotel was a most welcome sight as we rounded the bend down to the slipway where the ferry used to run before the bridge was opened in 1984. Note to staff: If your customers are obviously exhausted, soaked, footsore and hungry is it really, absolutely necessary to keep them standing in reception while you get them to fill in forms and go through the breakfast and dinner times? Give Richard at the Inchnadamph Hotel a wee call for some tips.
Mustn't grumble though. We made it in just in time to get changed and head to the bar for a delicious dinner, a couple of pints and, back in our room, a deeply relaxing hot bath and a well-deserved sleep.
Distance walked - 14.5 miles
Time taken - 11 hours
Monday May 5th 2008: They do a great dawn in Kylesku. The windows of our room faced directly East, straight down Loch Glendhu, and the sunlight came blazing into our startled eyes as we keeked through the curtains, expecting more rain. It was so bright in the dining room that we had to go back to our room to fetch our sunglasses. The previous night we had scattered all our wet gear over radiators, seat backs, shelves, window ledges, door handles and hooks and it took us quite a while to get organised after breakfast.
Loch Glendhu from the Kylescu Hotel, 10:40am Monday 5th May 2008
Our spirits were high, having such a glorious start and after a short road walk we were treated to some beautiful scenery.
Quinag from Kylesku Bridge

Good morning, deer!
We took a sharp right down the road towards Kylestrome. At this point in "North to the Cape" the authors mention going through a gap in the fence to ascend through the woods. That isn't necessary at all since there is now a very obvious and wide path to follow, at the buildings, just before the road bends to the left.
There was another steep climb in store for us this morning, but only up to about 1,300 feet. On a day like this one you would be crazy to complain as the landscape unfolds with each step and the views become ever more magnificent with every step.
Panoramic view looking back to Kylesku (centre of pic)
Looking back towards Glas Bheinn. That's where we were yesterday! The thin white line of the top of the Eas a' Chuall Alluin can just be seen right of centre. I think that's the peak of Beinn Leoid keeking out on the left.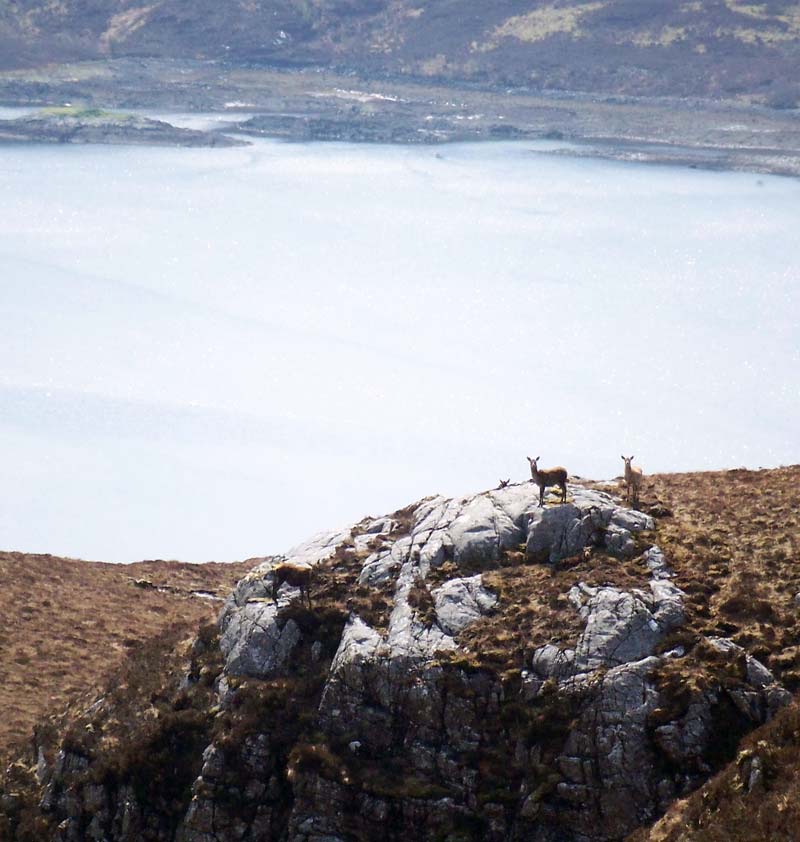 Deer pose dramatically above a Scottish loch. As they do.
Shortly after reaching the sheiling at the top of the hill, the path makes a rapid descent down through the Achfary Forest. Once at Lochmore Lodge you should bear right. The other path takes you into their front garden and they will shoot you. Probably.
A sharp left tun on the road will quickly take you to Achfary, whose only claim to fame is that they have no red paint.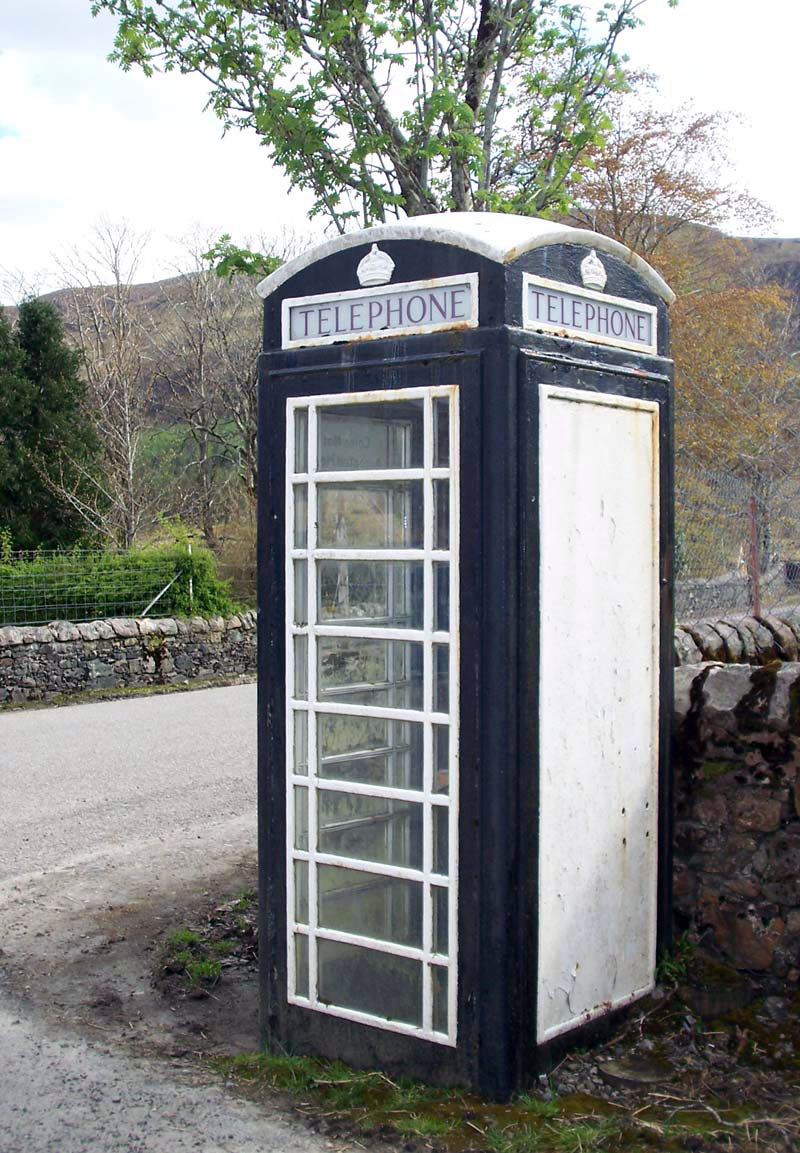 Don't bother trying to make a call. There's an inch of mud on the floor, it only takes plastic cards and BT will relieve you of £25 of "credit"
Turn left at the phone box and you pass through the little village of Achfary, which is, I think, weird. We had planned to camp near there but we were making good time and feeling good about today's walk so we decided to keep going up Strath Stack until we reached the end of the forest where we hoped to find a good camping spot. Everything went according to plan and before long the tent was up and we were enjoying our evening meal in the late sunshine beween Ben Dreavie and Ben Stack. We even went for a walk afterwards.
Looking back down Strath Stack towards Achfary Forest. Oor Wee Tent is down there somewhere - our evening stroll was a bit longer than we thought
Celine had caught sunburn and a wee bit more besides. She found a little tick burrowing into her leg. These little buggers gorge on your blood until they become bloated and fall off. If you don't remove them properly they will disgorge the bacteria ridden contents of their stomachs back into your bloodstream, potentially giving you debilitating and incurable diseases. Nice wee beasties, eh? They proliferate in deer and sheep country (i.e. Scotland) and so in anticipation of encountering these arachnid antagonists I had packed the tick remover we found at the bothy in Knockdamph last year. It worked a treat and with a quick twist the critter was despatched.
Distance walked - 11.7 miles
Time taken - 7 hours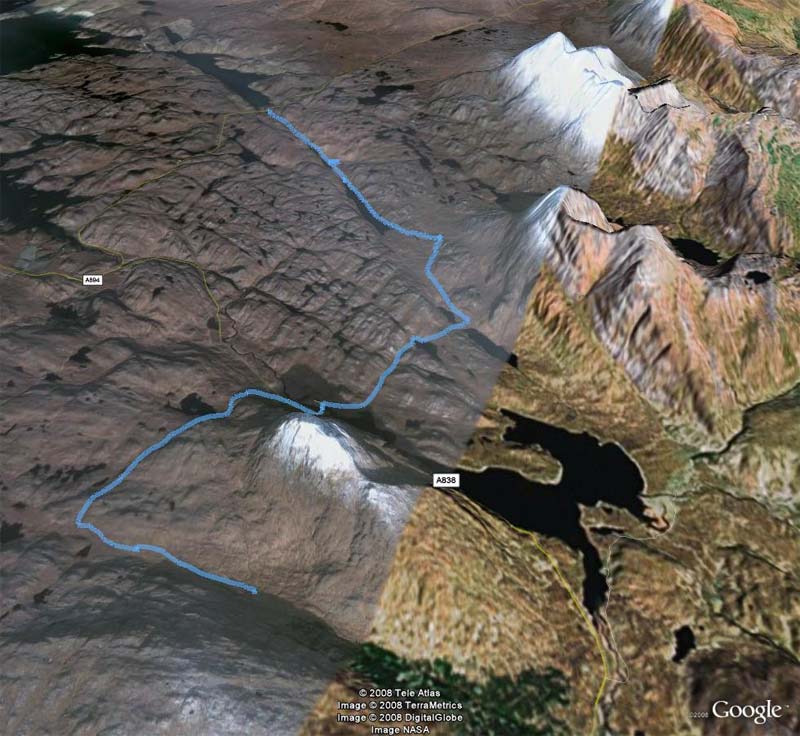 Tuesday May 6th 2008: We had an early, cold start. Up at 6am and feeling decidedly chilly over breakfast. The sun soon came up over the hill, though and quickly warmed us up. Another beautiful start to the day.
Morning, looking back down Strath Stack
The good path suddenly deteriorated shortly after we began walking and, once again, we were in boggy ground following the ruts of 4-wheel vehicles. There were little wooden planks placed here and there to help them, and us, over the deeper parts of the mire. A fence marks the spot for a sharp turn left before what path there is sludges over to Loch na h-Ath and we were soon back on a good track, heading upwards, Northwest, with Ben Stack on our right. This was a particularly enjoyable part of the walk for me an as we gained the brow of the hill we could see Lochstack Lodge below us and ahead, the massive bulk of Arkle.
Loch Stack from under the bridge at Lochstack Lodge
We stopped beside Loch Stack for some foot care and a snack before continuing on our way right up to the foot of Arkle. Here, the path takes a sharp left and skirts around the mountain. A little over a mile after this we stopped again and rested on a wide rock before tackling the next section. We knew it was going to be tough since we were to cut across the rough ground and follow an anglers trod beside 2 lochs, Loch a' Garbh-bhaid Mor and Loch a' Garbh-bhaid Beag.
Most people who have taken their guidance from "North to the Cape" will follow this track but if there's anyone out there who knows of an easier way to get to Rhiconich then please let the world know. It was pretty hot as we set off across the bog. The dry, tussocky grass and heather crunched under our boots but frequently hid treacherously slippy mud lying in ambush below. The trod along the lochside is often nearly invisible and frequently far too close to the lochside for comfort. The slope of the hill conspires with the slippy mud and knee-high heather to try to fling you into the cold, cold water. The going is tough and great care needs to be taken in the places where the undergrowth camouflages large holes where the ground should be. It took us an age to struggle on until we took a wecome breather between the two lochs. While we were getting our breath back we saw a fellow traveller struggling along the track. He too was walking to the Cape but he had started 16 days previously at Fort William. After a brief chat he headed on to tackle the next loch and we followed on after a few more minutes.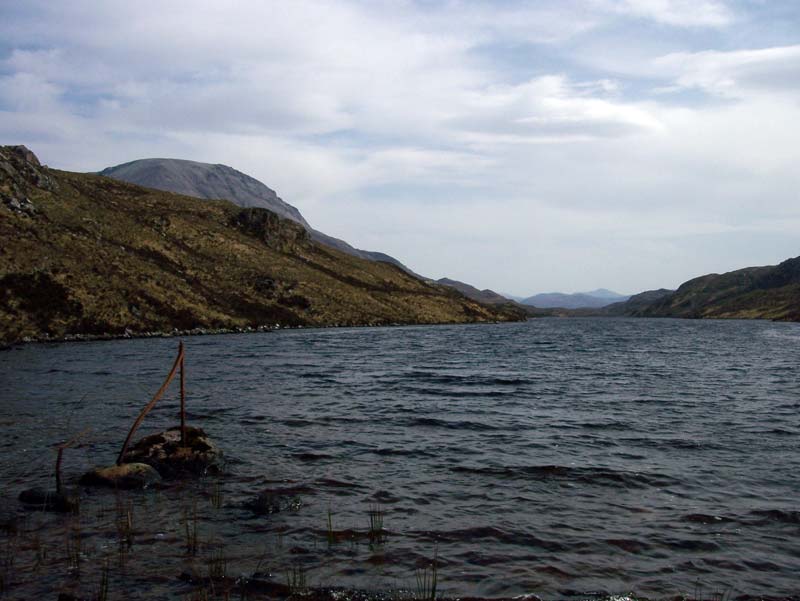 Arkle on the left, from between the Lochs of Doom
This route wasn't tough enough for us so it's just as well there was a wide river crossing next. The Garbh Allt cuts across your path and you can walk upstream as far as you like but there ain't no way you can get across without going in up to the knees. Luckily for us the lack of rain over the last couple of days meant that the river was relatively slow and calm. After some searching around for a decent crossing we bit the bullet and waded, knee deep, into the cold waters. Safely across, we both thought that the coolness of the water in our boots was a relief in the hot late-afternoon sun. The trod beside the loch was still a chore, but not quite as bad as the previous one. Half a mile later we saw a boathouse with its roof missing. Beside it were three figures, dressed in traditional angler's attire. As we approached, the nearest, a tall, burly chap with long, unruly hair regarded us. "Hey!", he called in a gruff Home Counties accent, "Do you have a hairband?". "You're asking the wrong guy.", I replied, whipping off my cap to show my baldy head.
The guys were from Essex, up for a fishing holiday and we enjoyed a chat with them as we sat on rocks beside the boathouse, wringing our socks out and tipping water from our boots. One of them pulled out a large knife and sliced up a length of string to tie back his pal's hair. Funny place, the outdoors. A stranger from Essex, with his mates drinking cans of John Smith's beside him, flashes a big knife in front of you and yet you don't feel the least bit nervous.
Not far to go now. Only anoher mile of gradually improving track and at last we arrived, exhausted, at the Rhiconich Hotel. After standing at reception to fill in the form (see previous comments) we were shown up to our room. A quick change into our dry clothes and we were down at the bar in anticipation of a well earned pint. Two pints of 80 shilling please! (waiting...waiting...) Sorry, pump's broken. OK, two pints of Best, then. (waiting...waiting...) Sorry, that pump's off as well. Aaargh! Two pints of Guinness, please. (pour, pour, waiting...waiting, pour, pour, waiting...waiing...). Aaaaaaaaaahhhhhhh. That hit the spot!
After dinner, we relaxed outside with some more beers (they fixed the pumps) and watched the sun set.
Sunset, the view you can have whilst sitting with a pint in the porch of the Rhiconich Hotel. Not bad.
Distance walked - 11.9 miles
Time taken - 9.25 hours
Wednesday May 7th 2008: Would you believe it? Our luck's in and it's yet another beautiful day for our much-anticipated hike to the legendary Sandwood Bay. Breakfast was quite simply enormous. So huge that we didn't have to eat again until evening.
The first 8 miles of today's walk is all on road but the climb up (it's almost always "up" in Scotland, in defiance of logic and the laws of physics) gave us some tremendous views. As we looked back we could follow our route of previous days to Arkle, Ben Stack, and even to the mountains of Assynt, now seeming small and misty in the distance. Blimey - look how far we've walked!
From left to right: Foinaven, Arkle, Ben Stack. I think you can just make out the Assynt hills if you follow the left gatepost up
At Badcall there's a wee shop called the London Store. We stopped there for batteries, sun lotion and a cold drink. It must have one of the best views of any shop in Britain and we sat outside, enjoying our drinks, basking in the warm sunshine and taking in the magnificent vista.
The little harbour town of Kinlochbervie was only a short distance away. We stopped there too, to buy camping gas and post some unwanted baggage back home. Making the most of civilisation, we stopped once again to have a pint outside the Kinlochbervie Hotel.
A lamb in a bath. How cute is that?
Suitably refreshed we shouldered our packs and set off up the road to Oldshoremore. We were almost tempted to take a diversion to its gorgeous beach but Sandwood Bay beckoned. On the way we saw a cuckoo perched on a telephone wire. Almost everywhere on our long journey North we had heard these birds but this was the first time we had seen one. They're nothing remarkable to look at but they certainly make a phenomenal sound, especially when you're close up and their call is echoing off the surrounding hills.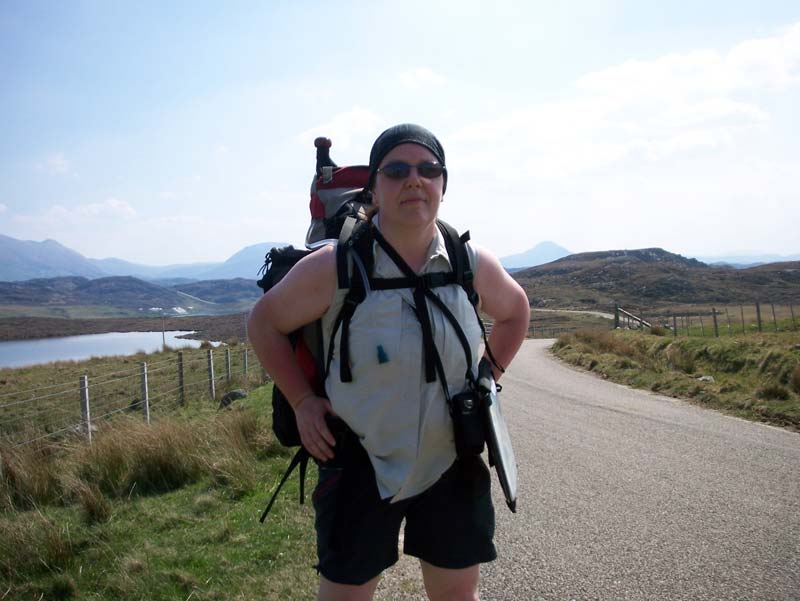 Celine, determined to increase her sunburn. It worked.
Buildings and beach at Oldshoremore
We soon reached the car park at Blairmore, where there are benches and some surprisingly well-appointed toilets. A short rest later and we were on the 4 mile path that leads to the Bay. At one point Celine peered into the distance and asked, "Is that the lighthouse?". Sure enough, it was just a tiny dot in the distance but it our first glimpse of our destination after all these miles. Cape Wrath! Not far now.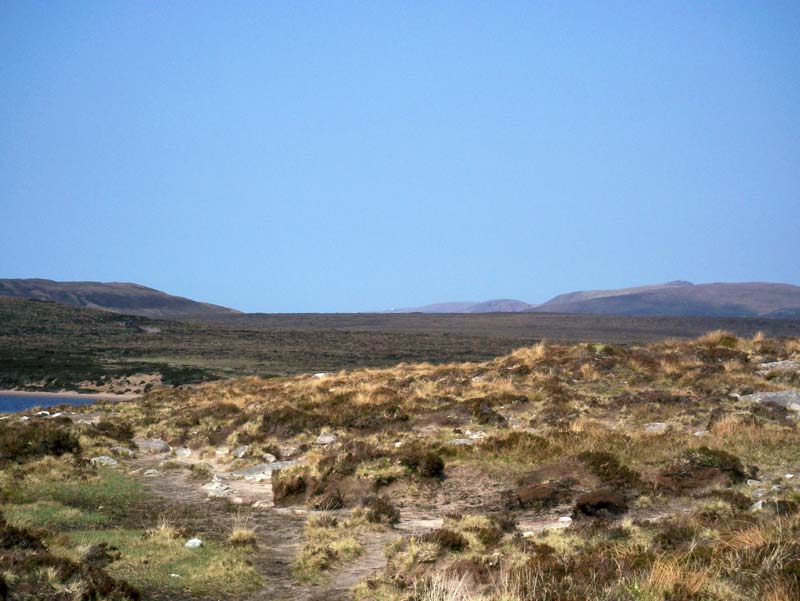 The path to Sandwood Bay. That tiny white pixel in the middle is the lighthouse at Cape Wrath
On the path we met several sets of daytrippers who were returning to the car park, all of them spoke of the beauty of Sandwood. I had to make a stop to apply some Compeed to my right foot which was beginning to blister after the long road walk. It's a good idea to treat blisters as soon as you feel them coming on otherwise that "hot spot" is going to cause you a lot of pain later on.
Climbing up now, around the hill of Druim na Buainn and we could see ruined Sandwood Cottage. We picked up our pace in anticipation of our first view of the bay.
Sandwood Cottage with the loch behind it
There are many places on the web where you can view photos and read descriptions of Sandwood Bay. I had seen plenty of them before in anticipation of this trip and yet I was still unprepared for the sheer, gob-smacking beauty of the place as we rounded the corner of the hill. Beyond the cottage a smooth green pasture sweeps down to the dunes, surprising the eyes with startling verdancy after all those miles and miles of muted bogland. The beach itself is a thin, mile-long strand between the freshwater loch on one side and the wide ocean on the other. It's enough to bring tears of joy to any traveller's eyes. Well, this one anyway.
It's not a golf course
Ah, but now we're here there's work to be done. We started geocaching in 2005 at the same time that we were preparing to start our long walk and we had saved our 500th find for this special place. If you don't know about geocaching then you can read all about it here. If you are a geocacher then bookmark "Harry's Cache" (GCM02J) for one of the UK's best-located caches.
I'm not joking when I say that our packs felt lighter when we reached this magical place. We wandered through the dunes and strolled along the shoreline until we reached the short river connecting loch to ocean. I had thought that this might be difficult to cross but the river bed is made of large, smooth rocks and the water was very low. Picking a way across was easy. On the hillside opposite there was a small, green tent and as we passed I recognised the man we had spoken to yesterday at the Lochs of Doom. We exchanged waves and Celine & I carried on, looking for a good place to set our tent and soon decided on a piece of flat ground, fairly high up and close to the loch.
Classic view of Sandwood Bay with the sea stack, Am Buachaille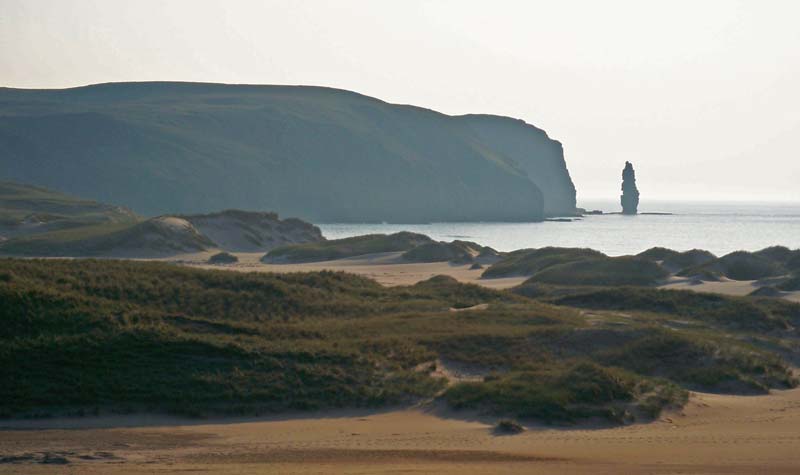 Sea cliffs and sea stack
Sun, sea, sand and stack
Oor Wee Tent gets a braw view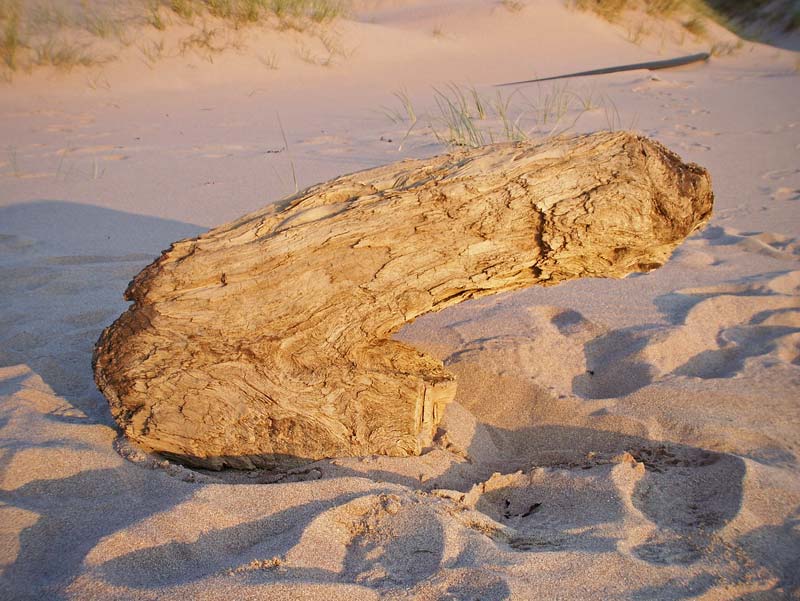 Driftwood. Reminds me of something...
Lewissian Gneiss - some of the oldest rocks in the world, formed before the earth had an atmosphere
After pitching the tent and enjoying a light meal we crossed the river again and walked up and down the beach. The sand is littered with detritus washed in by the tide. It's mainly plastic - bottles, nets, laundry baskets, welly boots and, for some bizarre reason, loads of red rubber gloves. I was hoping to find one of the rubber ducks that fell off a container ship in the North Pacific in 1992. They've been drifting on the world's ocean currents ever since and have provided oceanographers withvaluable information. I didn't find one but I did find a large piece of driftwood in the shape of a penis.
Later, we scrambled up onto the hilltop and met our travelling friend. His name was Glen and we all sat quietly chatting as the sun went down on its way to light up America. We stayed until it became chilly and the first stars began to show in the sky, climbing down before it became too dark to see.
Sandwood sunset
Distance walked - 13.8 miles
Time taken - 8 hours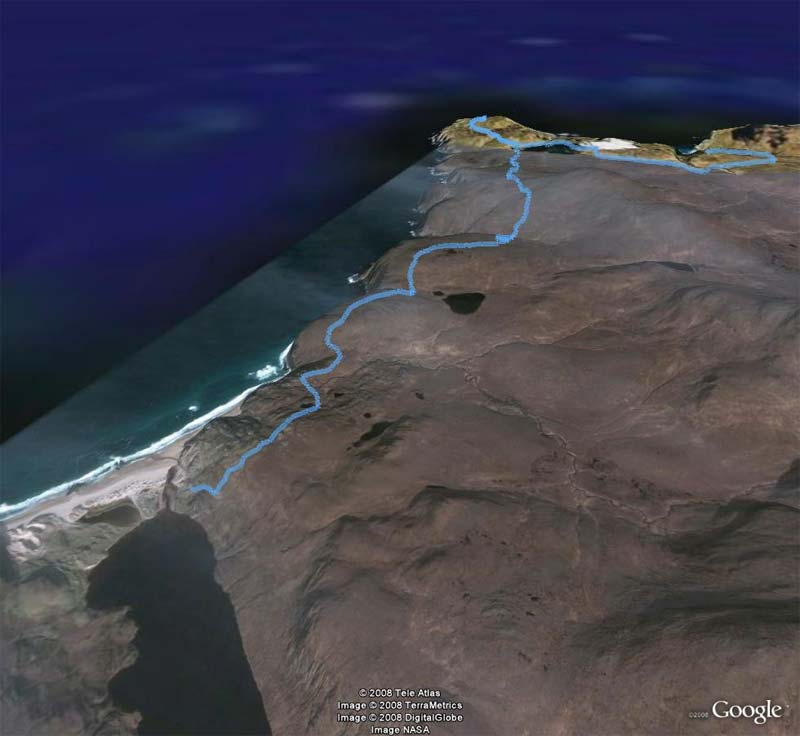 Thursday May 8th 2008: I don't enjoy sleeping in a tent. Mostly, I just lie down and endure the discomfort until I can't stand it any more, then it's time to get up. I seemed to get a decent night's kip at Sandwood though, and we woke up to yet another gorgeous day.
After breakfast, we headed down to the beach again to continue our search for a rubber duck. We didn't find one among all the other plastic paraphernalia but at the South end of the beach we found the remains of an Orca. We knew it was an Orca because we had heard news of its demise in the previous days, but the distinctive black and white markings had long gone, replaced by a grey/brown sludge of decomposing matter. Downwind, the stench was unbearable.
Whale meat again...
We dawdled along the beach in the morning sun, unwilling to rush away from this wonderful place. We knew, though, that we had a difficult day ahead of us so, reluctantly, we returned to strike camp and pack our rucksacks. We didn't leave until 12:20pm.

Looking back to the Bay from Cnoc a Gheodha Ruaidh. The bay can be seen from time to time all the way up to the Cape
For a short while, the magic of Sandwood seemed to keep our packs light but as the boggy, trackless and hilly miles wore on I felt as if my rucksack was being slowly filled with rocks. The hot sun and relentlessly difficult terrain made going painfully slow as we detoured around rivers, cliffs and ravines. At one point, before crossing the Keisgaig River, we encountered a seemingly endless line of barbed wire fence. Our options here seemed to be either follow the fence half a mile back to the coast in the hope that we would find an end to it, or to try to find an easy place to get across it. We followed it towards the coast for a short while but eventually found a place where the fence had been constructed in such a way as to make climbing over it pretty easy. If we set off any MOD alarms then no-one came to investigate.
Our spirits were quite low as our strength sapped and we decided to make for the road the shortest way we could. We reached the deep gorge of the Allt na Clais Leobairnich which points like a giant finger to the potholed single-track road that serves as the only access between the lighthouse and the ferry across the Kyle of Durness. It was with happy hearts that we finally gained the road at 7pm after such a laborious trek. From this point we had only about a mile and a half to walk before we reached the lighthouse.
At last, there it was. With only a few steps to go before we entered the grounds of the lighthouse we suddenly heard the unwelcome sound of dogs barking. It sounded like 3 fairly large dogs and the noise was coming from inside one of the buildings. Most of the doors we could see were closed but there was one open door beyond the room where the dogs seemed to be. We approached cautiously and found what appeared to be a visitors room with a few tables and chairs and a history of the lighthouse in pictures hung on the walls. Curiously, the floor had recently been given a coat of fresh and strong-smelling paint. To our relief the dogs were nowhere to be seen. The evening was becoming a bit chilly now and we were glad to be inside, out of the breeze, where we took the opportunity to tend to our acheing feet and heat up a small meal.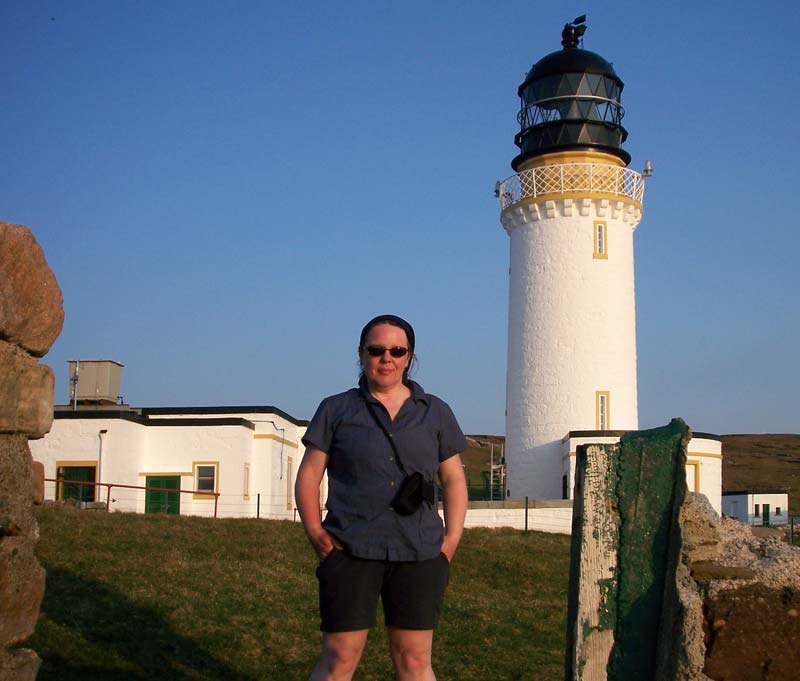 Celine at the Cape Wrath lighthouse. It's a long walk from Glasgow!
Cape Wrath at last
Gerry makes deep "wooooo-oooo" noises beside the Cape Wrath foghorn. No ships were lost in the fog that day.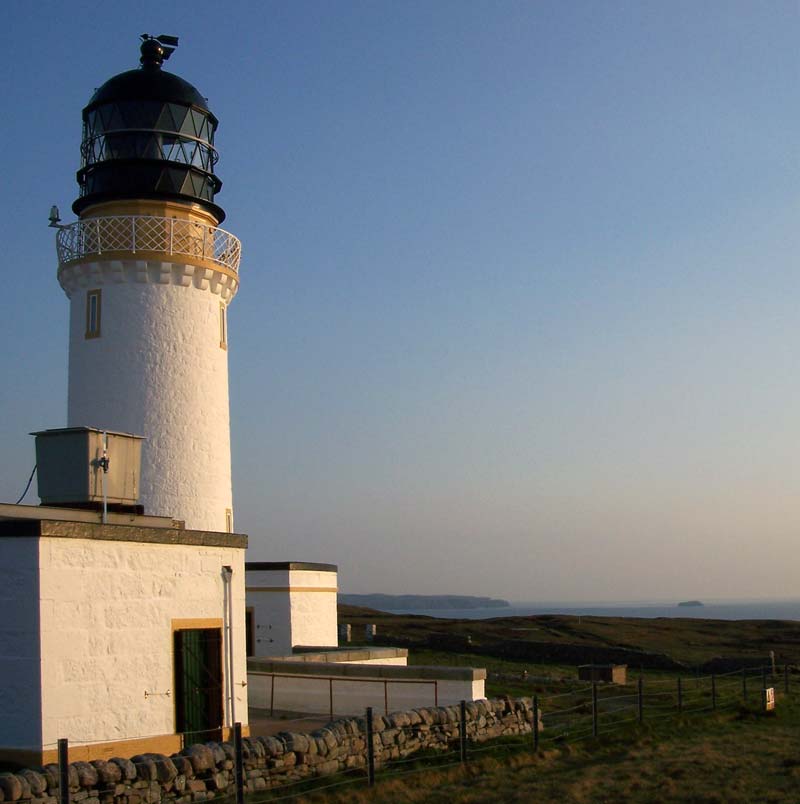 Cape Wrath lighthouse. Sandwood Bay is only a few miles away in the distance, but it's a tough walk
After a brief exploration, a few photos and a congratulatory hug we had to hit the road again, past the barking dogs (real or motion-sensor activated recording? Who knows?) and away from the spooky feeling that pervades the lighthouse that unseen eyes are watching you. The evening was wearing on and we had yet to reach our final destination for the day, the bothy at Kearvaig. And so, once again, we shouldered our packs and set off along the road, which in any other part of the country would more rightly be called a track. We had 5 miles still to walk but, having at last reached the Cape, we were in pretty good spirits and, although very tired, we marched along, whistling the Indiana Jones theme and relishing the fact that we had no more rivers, bogs, ravines or mountains ahead of us. This entire area is controlled by the Ministry of Defence and is marked DANGER AREA on maps, and with good reason. It's used for bombing and shelling practice and other violent practices. All around are signs warning you that if you touch anything at all it's likely to explode and kill you. Every so often you find these strange wee huts.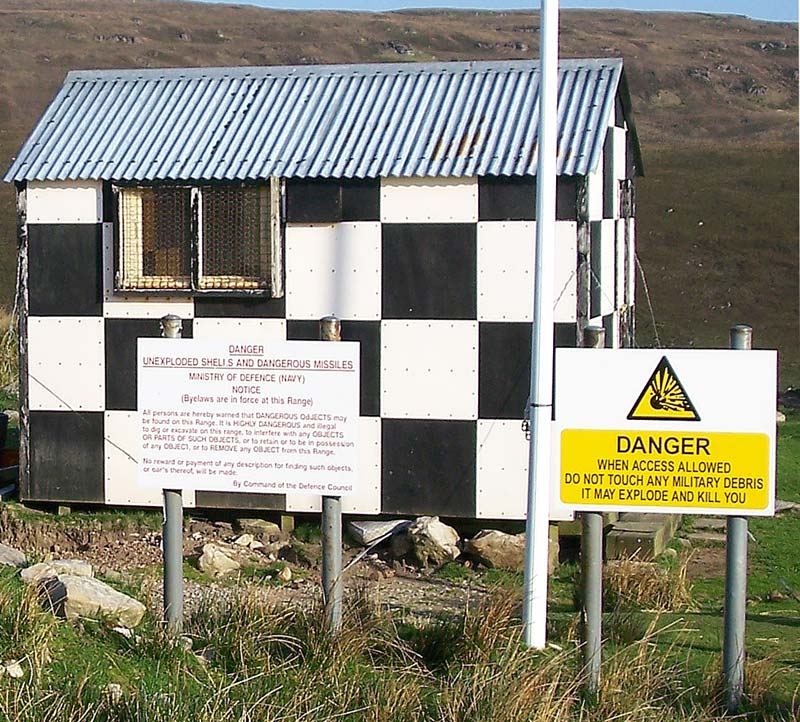 You can't say you weren't warned
The track to the bothy branches off from what we'll laughingly call the "main road" and makes its steep and rocky way down to the shore. I remember thinking "Oh no, this is going to hurt on the way back in the morning". I wasn't wrong.
Although we were relieved to reach the bothy we were disappointed to find that, far from having the place to ourselves, almost all the available sleeping space was taken up with bed rolls, already opened out on all the available floorspace in the upstairs sleeping area. The downstairs room was occupied by a lady and her dog so we had no other choice but to sleep on the floor of what looked like a small storage area immediately opposite the front door. There were mattresses leaning against the wall and although they smelled pretty rank and damp we decided to use them, covering them first with our tarpaulin, a very useful and versatile gift that has accompanied us on our travels for a few years now (thanks, John).
In the light of our torches we studied the map and worked out what time we would have to get up in the morning. We had 10 miles to go and we absolutely had to get to the ferry by 11 the next morning. The unthinkable alternative was a long, trackless detour down the length of the Kyle to the nearest Bridge. So it was to be an early start at 3:30 am. Less than 5 hours away.
Looking down from the bothy to the beach at Kearvaig
Distance walked - 13.9 miles
Time taken - 9.5 hours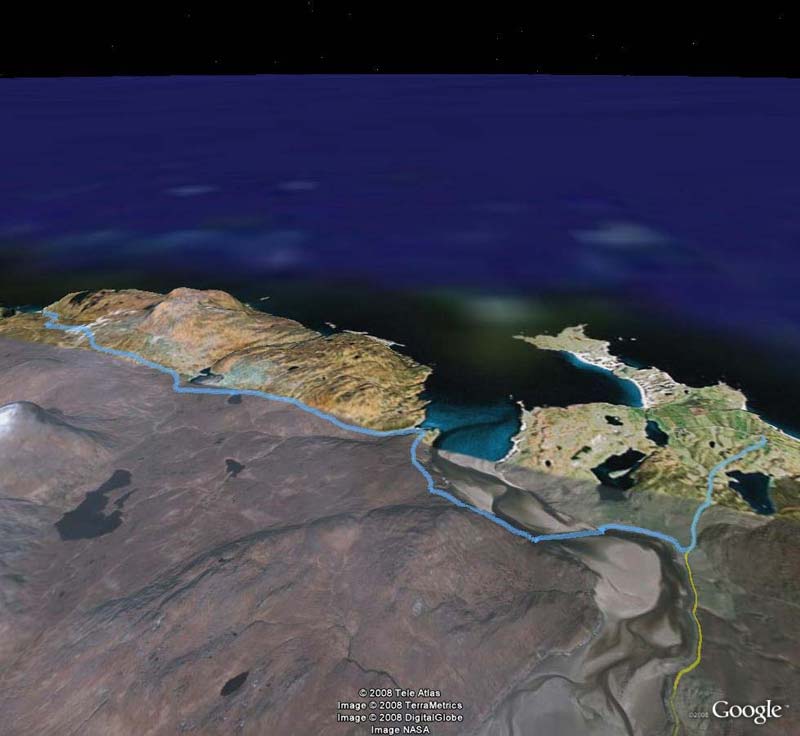 Friday May 9th 2008: It had been a miserable and thankfully short night in the bothy. Although I was so shattered that I fell asleep almost immediately, the night was soon broken by the noise of our fellow travellers, returning from their evening on the beach and heading past us to the sleeping areas upstairs. I was also acutely aware of the smell of stale urine emanating from the mattresses we were lying on and I cooried in to my sleeping bag as much as I could in order to avoid physical contact with the loathsome thing. I was told later that the Mountain Bothy Association have had words with the British Army regarding their abuse of the bothy. It seems that some of Our Boys find it too much a struggle to actually go outside to urinate.
We had set digital alarms to wake ourselves up at 3:30 and, although we packed up as quietly as we could, all our posessions were wrapped in rustling plastic which woke up the lady with the dog. "YOU'RE VERY NOISY!", she shouted in a voice which was guaranteed to wake up everyone else in the bothy and startled the wildlife for miles around.
We had only a little water and so we set off without breakfast into a surprisingly bright morning for 4am. As I mentioned, the early, hungry walk up the steep rocky path seemed terribly unkind but we pushed on until we found a river where we could fill up with water and enjoy a hot breakfast. Cup-a-Soup tastes surprisingly good at that time in the morning.
I had to put a Compeed blister plaster on my left foot now. All the road walking was beginning to take its toll. But it did the trick and helped prevent any further deterioration of my feet. The rest of the journey passed without excitement or incident. We spotted the occasional army vehicle and hut. At one point we saw in the distance what appeared to be a collection of large trucks and a tank, and we wondered again if there were unseen eyes tracking us.
We had been very cautious in estimating the time our walk would take us and we reached the slipway for the ferry at 9am. With 2 hours to go before the ferry was due we took off our shoes and settled ourselves on the cold concrete in anticipation of a long wait. It wasn't long, though until we saw a small boat approaching us from across the water. It was bringing a couple of workers over the Kyle and, after leaving them and their gear at the jetty, the boatman asked us if we were waiting for the ferry. We affirmed this and he said that, although it wasn't due yet, he would take us across now. "Mind you, that will be £3 each" he said. We readily agreed and within moments we had our boots back on and were on the little boat with its sputtering outboard motor propelling us across to the jetty on the opposite side. On the way over the boatman offered us a lift to Durness. We explained that, tempting as his offer was, we could not accept since we had been sponsored and were honour-bound to complete our journey on foot. We reached the other side, thanked him, and tried to give him the fare, but he waved us away saying, "Ach, it's for charity so you don't need to pay". Sometimes a little gesture like that can really make your day
With the Kyle of Durness now behind us all that remained was to walk the remaining few miles to the village of Durness where we had left our car parked more than a week ago. Somehow, the landscape arranged itself to give us considerably more uphill than our poor, tired bodies actually needed. It wasn't too long though before we were on the final stretch and we could see the chimneys of Mackay's Hotel and then, at last, the gloriously welcome sight of our car. We had made it. Every step of the way from Glasgow to Cape Wrath and a wee bit more.
Tired but triumphant at Smoo Cave.
A short drive later were back at Smoo Cave. After a short exploration, including a fascinating boat ride to the inner chamber, we used the facilities there to wash and change and we were quickly on our way, driving, gratefully not walking, South to home.
To remind ourselves of how far we had come we drove past many of the places where we had stayed overnight and, when we reached Inverness, we followed the road beside Loch Ness, retracing the route from our Great Glen walk. From Fort William we followed the road through Glencoe, past Rannoch Moor, through Tyndrum and Crianlarich, down along the shores of Loch Lomond, remembering our days on the West Highland Way. The weather was still superb and Scotland looked stunning almost all the way down the road. Finally, we reached Glasgow and at last we walked the few remaining steps home.
It had been a long drive South, but, my goodness, what a Long Walk North!
Looking back to Suilven on the road home
Distance walked - 10.5 miles
Time taken - 6 hours