Stage 3 - The Trans-Caledonian Way
What do you mean, you've never heard of the Trans-Caledonian Way?

Maybe it's something to do with the fact that we invented the name to describe our route East and North across Scotland from Inverness to
Ullapool.

It all began in September 2005 when we walked the West Highland Way, we were bitten by the bug. Actually, we were bitten by several bugs, and stung once or twice too but specifically the bug we're talking about here is the long-distance walking bug.
After the WHW we tackled the Great Glen Way and, once completed, we decided that we wanted to continue our walk all the way up to Cape Wrath. However, rather than follow any routes in the books, which tend to start from around Fort William, we decided to "join the dots" and continue walking from Inverness, tackling the journey in two stages.

The plan for this leg was to drive to Ullapool, dump the car, take the bus back to Inverness and start walking back to the car the next day.
We were also planning on bagging some geocaches on the way and, since this account was written originally for the Geocaching community, there will be mention of these as we go along. I'll mark them like this so that non-geocachers will know what I'm on about.
The long drive up to Ullapool was punctuated by a couple of stops for coffee and on the first of these I realised that I had somehow screwed up all the clues for en-route drive-by caches in my PDA. However, it was no catastrophe as I still had everything we needed for the caches we intended to bag on our walk.

On the way Celine had the tremendous idea of dropping off our camping equipment at the lodgings we had booked for our third night, since we wouldn't require any of it until our 4th night onwards, thereby losing about a third of the diabolical burden that we were so not looking forward to bearing.

All went according to plan, thanks to fortune and amenable hosts. The sun shone all day and the forecast was good for the remainder of the week. While we were waiting to catch the bus from Ullapool to Inverness we wandered through the village to look for a geocache called "Inter-resting" in Ullapool?? After searching for a while we phoned our sons at home and, following a bit more of a search, we found it. Unfortunately neither of us had a pen on us to sign the log so we decided to return and sign it the following week.

At Inverness we had a meal at our hotel and went for a stroll along the river, picking up the Bellfield Park cache while we were out.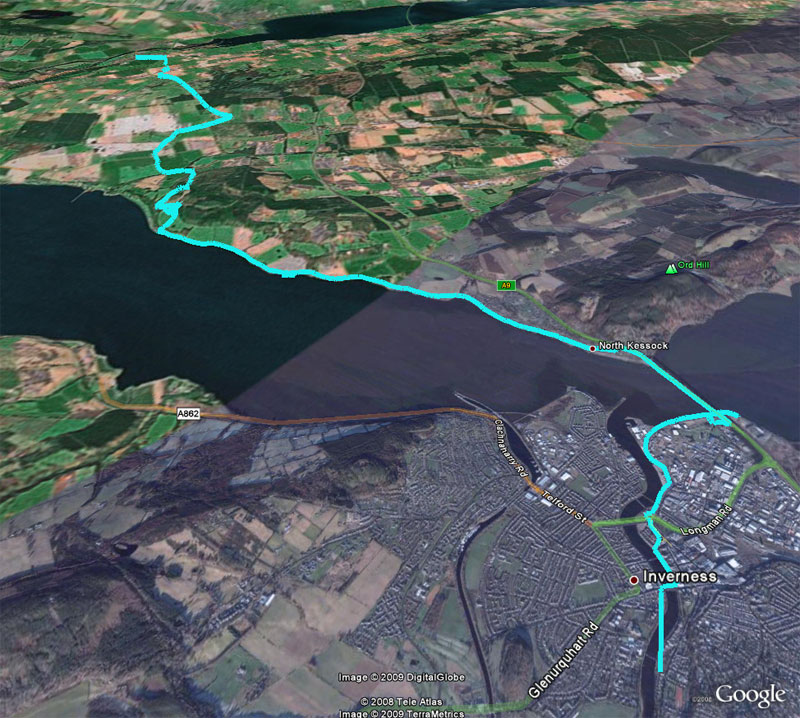 Sunday April 29th 2007: The next day dawned bright & sunny and we were out early with only a full Scottish breakfast to sustain us. We quickly noticed that our backpacks were uncomfortably heavy and we were glad we didn't have to carry our camping gear for the next few days.

Our first halt was at The Citadel, a cache'n'dash (easily accessible geocache) which gave us an excuse to stop for a while & take the packs off (we had a great deal of those excuses, believe me).



Beneath Kessock Bridge, Inverness

Next, it was over Kessock Bridge with its views over the Firths and onto the Black Isle, following the coast until we stopped for a refreshing pint at a caravan site - most welcome since the sun was blazing. Suitably sated, we cut up over Gallow Hill, losing our path for a while until we joined the beautiful forest tracks up to Gallows Hill Cache.

Onward then, to Kilcoy and Lest We Forget, one of a series of caches set around memorials. This was next to a charming art gallery and we took out the stove and brewed a cuppa while we waited for the fence-painting muggle (non-geocacher) to take the hint and bugger off for a tea break.
Which, eventually, he did, giving us the opporchancity to grab the cache.
Unfortunately, we had no knowledge of local paths and the best route we could make out on the map had us walking a considerable distance along the main road.
Some miles later we located our final cache for the day, Lest We Forget - Conon Bridge. Some yards later we located our lodgings - the Conon Bridge Hotel and treated our poor old tired bods to a couple of pints of Mr. Guiness's curative potion. I'm delighted to tell you that our room was large and comfortable, as was the bath in our en-suite.
Ah, bliss.



H2O identification - correct



H2O identification - incorrect
Distance walked - 16 miles
Monday April 30th 2007: Next morning dawned misty and was welcomingly chilly as we walked out of Conon Bridge heading for lunch at Strathpeffer. The countryside here was gorgeous and we were treated to the sight of a large buzzard perched on a telegraph pole. As we reached the top of the last hill before Strathpeffer we met a local character who reminded us both of Jimmy Saville for some reason and who was interested in the route we intended to take. He recommended a book called "Memories of Strathvaigh" by Kenneth Mclennan, which tells of the "Herring Trail", part of which we would be following. We haven't yet been able to find a copy.
Down the hill, then, to A-Maze-ing View. This is a wonderful cache site with a fascinating labyrinth composed of large rocks taken from all over Scotland. Its quite amazing to ponder that Lewisian Gneiss was actually formed before planet Earth possessed an oxygen atmosphere! We can highly recommend a visit, and on the other side of lovely Strathpeffer you can find another very interesting site when you look for The Eagle Stone Cache. This Pictish stone pre-dates Christianity in Scotland.



The rock labyrinth at Strathpeffer

Pressing onwards, and really feeling the weight of our packs in the now-searing sunshine, we headed up to gain a staggering view of Loch Kinellan (well, we were definitely staggering anyway).

Which reminds me of two important Principles of Walking which cock a
snook at the accepted Laws of Physics.

1. There is more uphill than downhill.
2. The final mile is never less than twice the length of the first mile.

More wonderful forest paths led us to the cache named Rogie Falls, which is actually a bit of a walk from the Falls themselves, but nevertheless a great spot to rest beside little Loch na Crann and brew another cuppa.



yob kulcha on the metal bridge over the Rogie Falls

From there we followed the trail down to the Falls, which could have done with a bit of topping up after all the sunshine. Somewhere around here we stopped for a breather and we both noticed what looked like a large, neat pile of freshly swept pine needles. Then we saw that it was writhing, and realised that it was, in fact, a large neat pile of wood ants in their nest. Our fear of biting, stinging nature prevented us from inspecting any closer, and so we pressed on for the final push towards Garve, and our lodgings at Birch Cottage.

Now, Birch Cottage's secret weapon is mein host, Ray, who, as well as being a jolly nice bloke, is also a gourmet chef.
I have rarely tasted food so good as our meal that night. The vegetables accompanying the exquisite pan-fried duck were uniquely tasty and the words "chocolate cheesecake" do not do justice to Ray's culinary concoction. And I didn't even mention the smoked salmon starter. Mmmmmmmmm.

Distance walked - 15.2 miles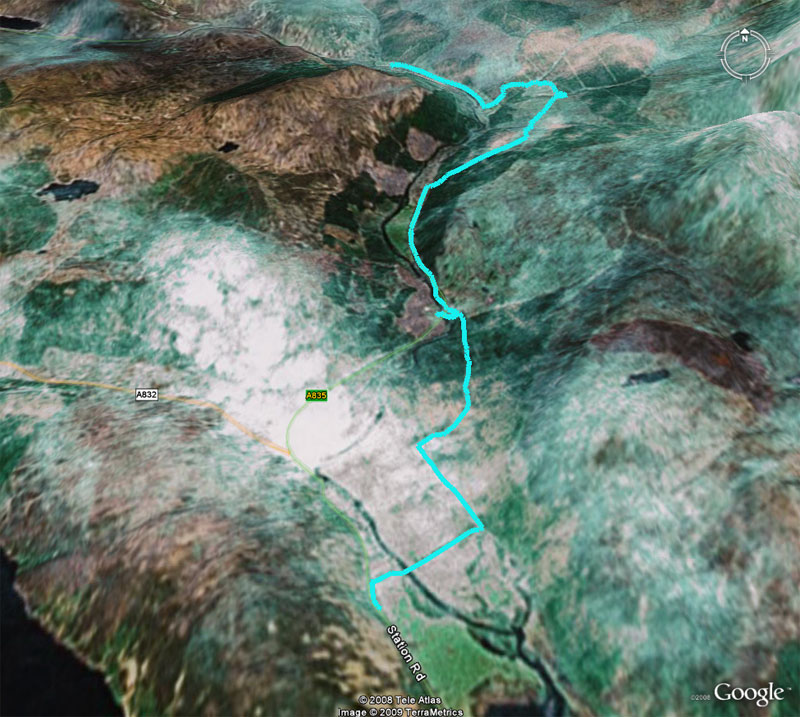 Tuesday May 1st 2007: There were no more caches on our route for the next few days. Another sunny, but thankfully short day saw us heading North to Inchbae Lodge. Unfortunately, a couple of miles down the road, our path was blocked in one direction by large, heavily padlocked metal gates whose equally large sign warned of extreme danger of an unspecified kind on the path ahead. Our alternative route did not possess the same impregnable barriers, but its small sign boasting of a large Rottweiller which could reach us in 3 seconds flat gave us cause to pause...just long enough to see something large, hairy and dead lying a short distance up the path at which point we stopped pausing and began walking in the opposite direction. Although we saw no sign of any (live) animal bigger than the annoyingly yappy Jack Russell barking at our heels we concluded that it was possible that he may, indeed, have a larger and more droolingly-fanged friend.
Sadly, this meant that our only viable option was a couple of miles walk along a main road. However this was relatively fine since the verge was large and the cars were few.

We were soon back up on lovely forest tracks again (going uphill, natch) and once again we were finding it a bit of a struggle under the cloudless sky. A close inspection of the map, though, showed no clear path down if we kept going to the edge of the forest and so we returned to the main road for the last couple of miles, noticing, as we passed, the very clear, easy and lovely downward path which would have been ours had we kept going. A "D'Oh!" moment if ever there was one.
And so we reached Inchbae Lodge and a large room with an unexpected 4-poster bed! Oh, well. The next 3 nights we were going to camp in the wilderness so we enjoyed the luxury while we had it.

The food at Inchbae lodge? We can't say really. We had been so enthusiastic about Ray's cooking at Garve that Linda, meine hostess, had offered to come and pick us up and, after dining at Birch Cottage, return us to the Lodge.
Mmmmmmmmmm again. What lovely people. We were introduced to their other guest, Tony. He's an ecologist studying habitats in advance of the Pylon/Underground cables scheme that you may have heard about.
He travels with his dog, Jack, and in the course of the conversation he mentioned one time when Jack stopped dead in his tracks, sniffing the air and growling, with the fur on his neck standing up. This was unusual behaviour for Jack and so Tony had a scout around and found some unusual animal droppings, which he bagged and sent to a friend of his who is a scatologist (yes, they have a name for those kind of people).
The droppings were identified as those left by a big cat - specifically, a leopard. So that was nice to hear on the eve of our venture into the wilderness, wasn't it?

On our return to the Lodge we had a couple of pints and a wee whisky. Not dutch courage you understand. Nope, not at all.
(Actually, although it's well-known that there are big cats in the Highlands, like most animals they'll keep well clear of humans.
Nothing to be afraid of. Ok? I'll just have one more wee dram then).
Distance walked - 8.76 miles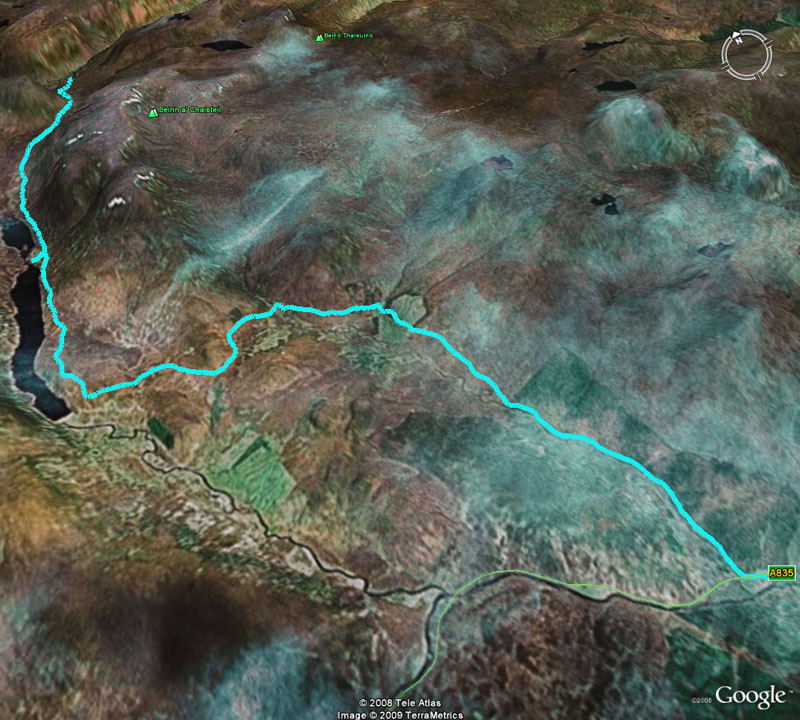 Wednesday May 2nd 2007: Next day we packed our camping gear into our backpacks and very near got the bus to Ullapool - they weighed a ton! Even though we thought we had been merciless with our packing we realised that we should have been utterly ruthless and discarded some of the non-essentials. The large golfing umbrellas seemed to mock us in the midst of the highland drought.



yob kulcha heads for the hills - some miles out from Inchbae

The day was long, hard, hot, exhausting and really quite rewarding in several ways. We saw an eagle soaring over hills in the distance. I cooled down in a deep blue loch with not even a hint of jet-skiers to set me to cursing. And the image of Deanich lodge in the sunset seems to have been tattooed onto my memory.



Abandoned buildings at Lubachlaggan

Deanich Lodge is a large, white building with a couple of outhouses, and sits near a river at the meeting place of three glens. It was empty as we passed by. We pitched our tent some distance away but returned to the burn near the house to get some fresh water. On our way there a 40-strong herd of red deer wandered in from another glen and grazed close to the house, keeping several watchful eyes on the humans hobbling slowly towards them.



Celine approaches Deanich Lodge

In the evening we lay in our tent and listened to the noisy squabbling of the Oystercatchers by the river and, later still, we crept out of the tent and watched a silvery moon keek out from behind a hill, throwing silver-blue beams into the thin mist which parted in patches to allow us glimpses of familiar constellations. Which was all very well and good but it was bloody freezing and so we hastily retreated back to the tent and our snug (but very heavy) sleeping bags.

Oor wee tent near Deanich Lodge


Distance walked - 13.5 miles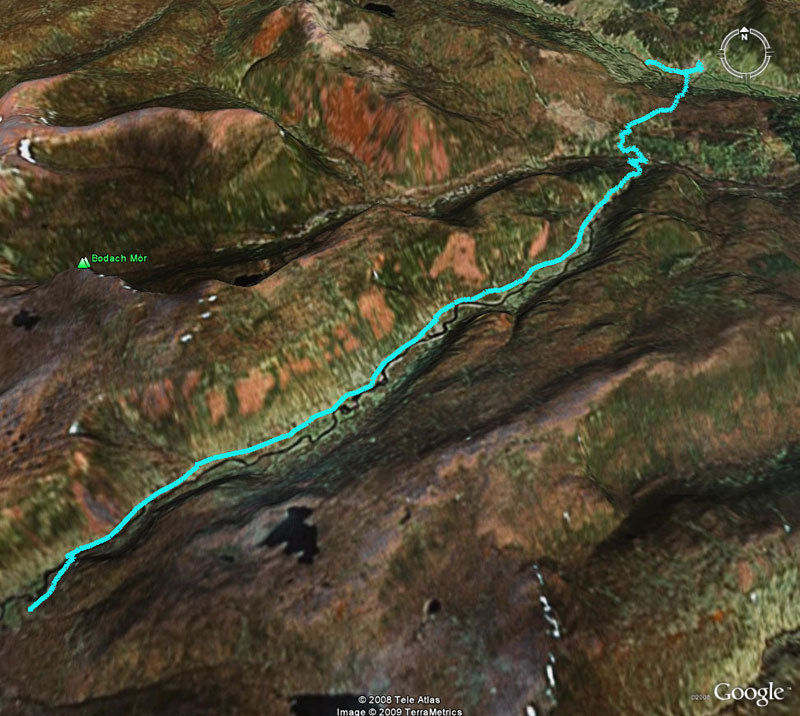 Thursday May 3rd 2007: As we rose the next morning the sunlight was hitting the high tops and the mist was retreating, thin strands being blown up the course of the river by a gentle breeze. After a breakfast that in no way could be described as "full Scottish" and which, come to think of it, would surely fall foul of European trade descriptions legislation should the Belgians happen to overhear you describing it as "breakfast", we packed the tent and moved on. Somehow, despite our small ecological footprint, our meager supplies and the fact that we could carry everything with us on our backs (only just), this process took us 3 and a half hours. Just as well it was only another short day's walk for us.



Red deer silhouetted against the horizon near Deanich Lodge

Surprise, surprise, it turned out to be another blazing day. As we trudged onward through the slowly-changing scenery we were passed by a Land-Rover on its way to Deanich Lodge (we could tell because later we saw smoke coming from that direction). We realised that the car's inhabitants were the first human beings we had seen in more than 24 hours.

As we reached the end of the glen we began to climb steeply (now there's a shock) and arrived at magnificent Alladale Lodge which must surely boast one of the finest views from a comfy chair that bags of money can buy. Alladale's owners are seeking permission to reintroduce indiginous wildlife to the estate, so at some point in the future you may find yoursef walking among beavers, wolves and bears. There was a man in a workshop near the big house and we hailed him to ask if we were on the right path to take us around the house to our outward path.
"Hello there", I ventured, turning to take in the vast scenery, "Nice view you have...HOLY CRAP WHAT'S THAT??"
The outburst was due to my having seen a huge gray blur whizz up from the glen and behind the house. A second later an RAF jet fighter burst out from the sky above the house and roared over our heads, so close that you could count the pilot's freckles. It was gone in an instant."As I was saying", I continued, "Nice view you have here, but bloody noisy neighbours!"



Above Alladale Lodge

If any of you are thinking of following this route then take note; although the OS Explorer map clearly shows a path over the hill from Alladale and down to Croik, it's little more than an animal track and is easily lost - it must be even harder to find in the Summer. However, we reached Croik with little fuss and grabbed the Croick Church cache. (I know the spelling's inconsistent. Blame the maps). This is another one of those caches that is an absolute pleasure to find and we found the church to be a great refuge, taking the liberty of resting inside out of the sun and brewing up a refreshing cup of coffee. I even got a chance to do my Ivor Cutler impersonation on the church harmonium.



Croick Church

Another night in the tent, another rabble of Oystercatchers and. in the fields, lots and lots of ickle baa lambs. Aww.



Aww, ickle baa lamb!

Distance walked - 10.1 miles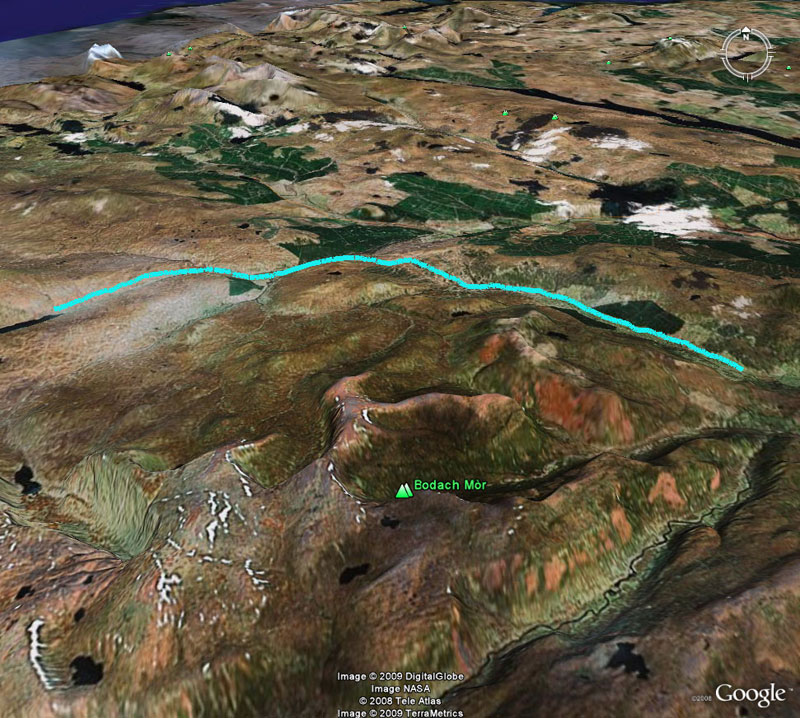 Friday May 4th 2007: Up and out to a refreshingly cloudy morning. After breakfast (apologies to Belgium) we trudged up hill and down dale, but mostly up hill. The high point here (literally) was on moorland which provided us with a fantastic view of 3 very distinctive mountains, An Teallach to the left, Suilven directly ahead and (I think) Ben More Assynt to the right.

We noticed lots of very large paw prints around about here but whether they were made by a large dog or a leopard neither of us could say. However, a little later we saw the remains of a sheep with a very large hole instead of guts and, sometime later still, we found the scattered and smelly remains of a fairly freshly killed baby deer. I'm no expert but my money's on the leopard


Our destination that night was to be the bothy at Knockdamph. Neither of us had ever stayed in a bothy, although we had passed many by, and after a long day's walk we were gladdened to see its chimney against the sky in the distance. Somehow, even though the GPSr told us it was only a mile distant, it seemed more like 2 or 3 miles walk to get there. See rule 2 above.



Knockdamph Bothy chimney

As we approached the bothy the sun came out and upon our arrival we were able to put up the tent and dry off that morning's dew, even though we wouldn't need oor wee tent again on this trip.

I can highly recommend this bothy. It has been very well cared for and stocked by the Mountain Bothies Association www.mountainbothies.org.uk and it provided us with shelter from the wind which picked up and chilled remarkably as soon as the sun disappeared behind the hill. We were joined by a fellow walker, Richard, who had walked all the way from Fort William via Ullapool on his long walk to the Cape. We got a fire going and sat chatting until our little ration of wood had expired and he retired to the upper floor of the bothy, leaving us to the lower room and the remains of the fire.
Distance walked - 13.8 miles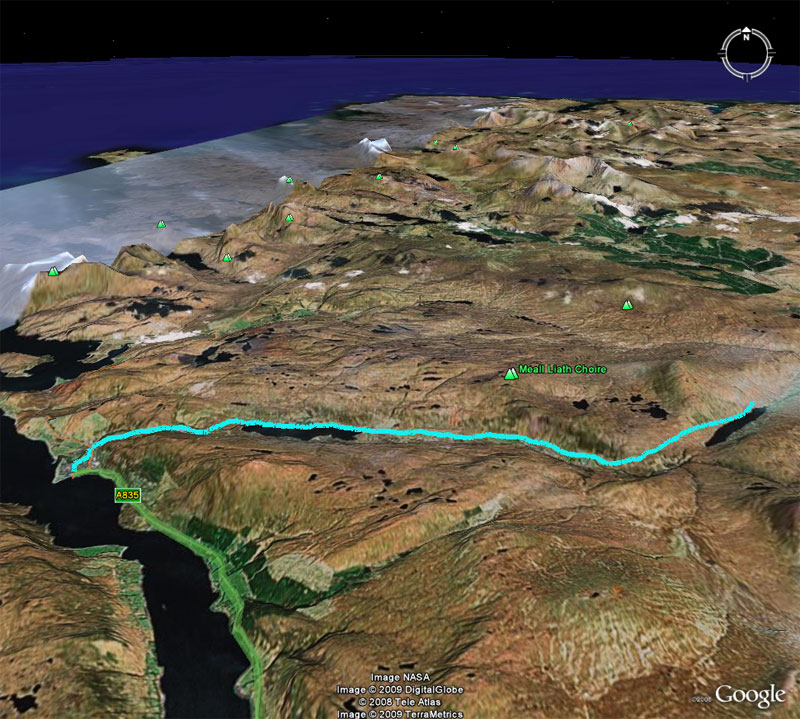 Saturday May 5th 2007: Next day we were all up early and out into yet another sunny morning. On leaving the bothy we found a tic-remover that Richard had dropped. This was to come in useful in the final part of our Long Walk North.

Ouch. The blister I had been developing the previous day hadn't magically disappeared overnight as I had hoped and, despite the mighty powers of Compeed and other protective spells I knew it was going to give me gyp for the rest of the day. And so it did.

Boat House at Ridorrach

But never mind. This was our final day and our hearts were light. Unfortunately the same can't be said about the backpacks. We knew we were close to our destination when we found Broom With A View which I imagine is quite a nice walk from Ullapool. Trust yob kulcha to do it the hard way - from Inverness!

At last we arrived footsore but happy in Ullapool. After unceremoniously dumping the backpacks in our hotel room we practically ran down to the pub for a celebratory pint or two (our first since Inchbae). We nipped out, pen in hand this time, to finish our business at "Inter-resting" in Ullapool?? and on our way back to the hotel we felt the familiar but long-forgotten sensation of raindrops on our heads. Unbelievably we had spent a week walking in the Scottish Highlands and we had cracking weather every single day!
And no midgies.

And that's pretty much it. On the drive back the next day we bagged a FTF (First To Find a new geocache) at Corrieshalloch Gorge Earthcache and we couldn't drive by our friend Highland Nick's "Slochd Stagecoach" without saying hello.


PS shortly after we returned home Celine exchanged emails with Ray and is now in possession of his recipe for Chocolate Cheesecake. Bon appetit

Distance walked - 12.2 miles