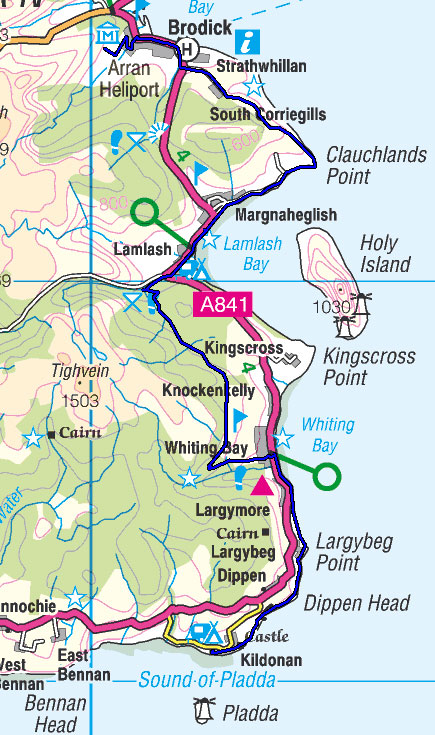 Sunday May 3rd 2009: Day 1
A beautiful start to the day. We shouldered our packs and set off along the "Arran Coastal Way", walking clockwise, because we like to be exceptions to the rule. The main road leading South out of Brodick soon takes you to a smaller road leading Southeast and turns into a good path which takes you over the Claughland Hills and along the top of the cliffs until it heads down to Claughlands point.
Patriot with a view

Arran from the Claughland Hills. "Is that Goat Fell?". "Naw hen, it's just lyin' doon fur a kip."

From the hilltops there are magnificent views back to Brodick and Goat Fell and ahead to the Holy Isle. From Claughlands Point we made a sharp turn right, since walking straight ahead would just have got us a dunking in the Firth of Clyde. Occasional light showers were keeping us company on the path along to Lamlash, where we stopped to savour a pint of Arran Ale. We saw seals basking on the rocks - the most exotic wildlife we were to see on our whole journey.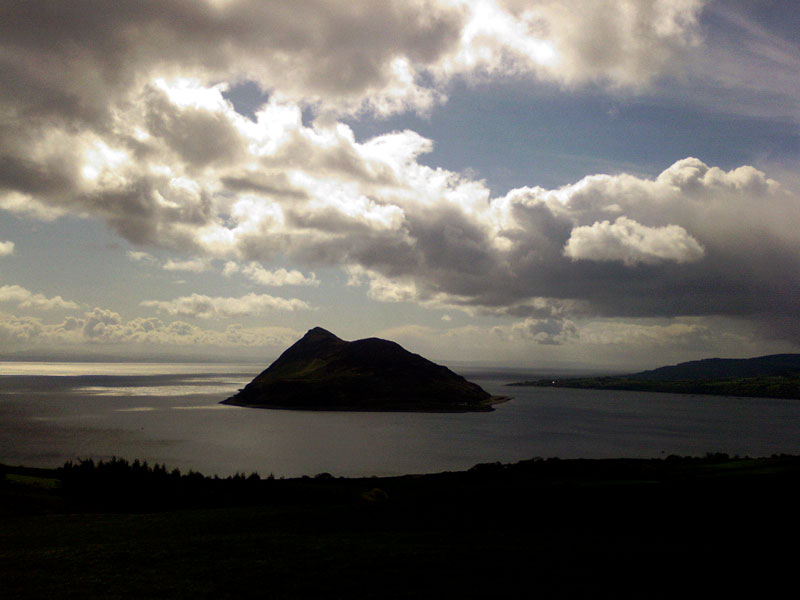 Holy Isle
Holy Cows?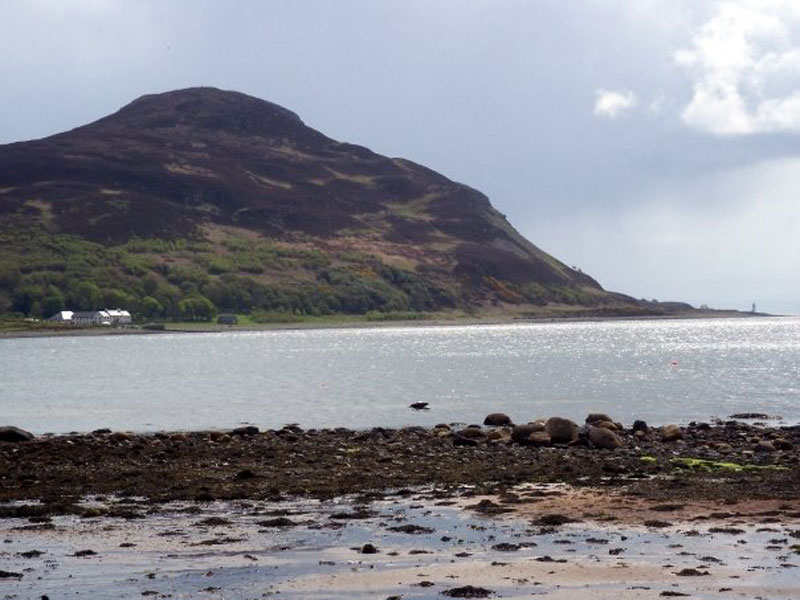 That's a seal there, really. It's basking.
Suitably refreshed, we carried on along the main road for a short while until we turned off onto the cycle path which follows a forestry path to Whiting Bay. Here we found our first Geocache of the day, Arran Industry - Cloth, a pleasant wee diversion at the edge of the forest.
Moving on, it was a grand walk up through the forest. The weather was so unpredictable that we were never sure whether to keep the waterproofs on against the rain, or take them off in the hot sunshine. As we descended into Whiting Bay there was a gorgeous smell emanating from the bright yellow gorse along the path - a kind of aromatic odour not unlike coconut or almond or vanilla. I've never noticed the smell before and I tell you, you could make sweeties out of it and I'd eat the lot.
As we walked into Whiting Bay the sun was behind us and there was a very fine misty rain ahead, creating a sheet of spectral colour that looked like a wide, flat and scarcely discernable rainbow ahead of us. So we stopped and had a quick pint in the pub, and when the rain had stopped we went outside and tended to our weary feet before setting out on the last leg around Dippen Head to Kildonan.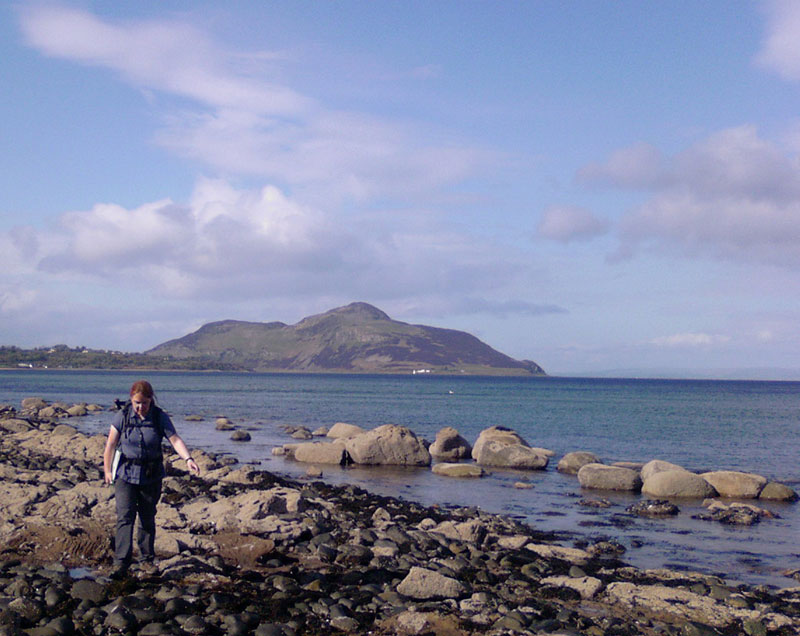 Celine picks her way through the rocks which were soon to become larger and slippier
Soon after leaving Whiting Bay the "Coastal Way" takes you off the road and onto the rocky seashore where you can see Ailsa Craig, as long as the weather holds out. There isn't a path, as such, and you just have to make your way as best you can. This is slow going, and it becomes much slower when you get to the big rockfall later on. At first, the inner child laughs with joy as he clambers over the jumble of huge boulders which litter the southeast corner of the island, but it's not long before the inner child starts greetin' for his mammy as the rockfall stretches on, and on, and on...
Ailsa Craig - "Paddy's Milestone" - and the ferry to Ireland
Ailsa Craig through rocks
Cormorants and Royal Navy ship. Insert "shag" joke here...
Celine was finding the clambering particularly hard going so I had plenty of time to stop and take pictures :) However, we eventually reached the end of the large rocks. Unfortunately, we weren't home and dry yet. In fact, the rain started falling in earnest and a cold wind picked up. The rocks, although smaller, became very slippy and the flat basalt slabs lying in our way were like skating rinks. This skiddy surface was interspersed with muddy, boggy ground and, tired as we were, we began to get a bit fed up of the whole trek. Eventually, this terrain gave way to sand and shingle so we did our best to keep to firm sand where possible.
We could see the lighthouse on the little island of Pladda and knew that Kildonan wasn't too far away. At last we passed the ruin of Kildonan Castle and shortly thereafter nearly walked right past our hotel. Luckily we didn't and we enjoyed a fabulous meal in the Kildonan Hotel, followed by a lovely hot bath and a good night's sleep.
Distance walked - 18.1 miles